FOUR hours' flight is typically tops when we consider travel to a short-haul sun destination. Take your courage, SPF and summer rags to Turkey, which offers everything that an exciting destination can. This is a country with a razzle dazzle coastline of Aegean – and other – waters and islands.
Turkey has cities and riches that empires scorched the earth for;  live music of stunning standard; heritage abú; luscious foods; shopping, and that supreme friendliness and service that the Turks burnish like their beloved tan.
Sign up for the weekly Limerick Post newsletter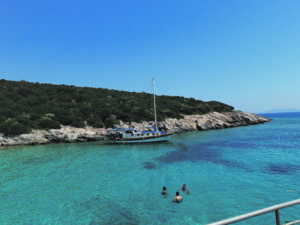 Aegean Riviera: Reader, we write here of the Bodrum coastline, served directly from Dublin Airport. Within 40 minutes of the airport, this westerly stretch of Turkey's 1000-mile span  offers a range of resorts with unique identities each.
Bodrum city bustles on steep hills. Its endless seastrip is a riviera of yachts, tour boats, scenic hotels and airy opportunities to dine.  Gumbet and Bitez are the upmarket beaches, fingering out along the enormous harbour spread. Scan the QR for the approach by sea.
Value: is excellent. A Turkish pizza (sea front, table service) is €4; glass of native wine/ 0.5cl beer €3.50; day-long touring and swimming from a tourist boat, all inclusive with transfer, €23.
Cheat the 36C temperatures in the great wide open, getting lost at sea. Look to Sunway Travel or browse the coastal promenade for your pick of boats. Resorts harbour beaches upholstered with lidos, pontoons, hammocks, swing sofas and tables in the sand for loitering and living well. Boats are kitted simply and are a world of fun, free from health and safety hang ups. The only time a life jacket appears is when the non-swimmers want to take selfies in the water, sunglasses on.
Trips: Water activity companies and tours to Ephesus amphitheatre, mud baths, hammam etc. offer a transfer so getting around is cheaper than chips and air conditioned. Avoid car hire; you do not chance those unruly roads.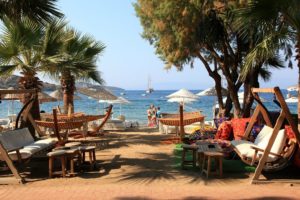 Accommodation: Hotels, even where all inclusive packages are preferred, welcome passersby to their prom-front bars and restaurants. Special mention to the Okaliptus for its shady swing sofas and hammocks; The Manuela for
 

Olympian-class live bands, its welcome and professional dancing; to Ambrosia Hotel for the pageant of outdoor traditional weddings and then in contrast, balladeering at The Shamrock Bar.

Summer Garden aparthotel is metres from the sea and music venues. It accommodates independent living with the option of tables loaded with decadent fruits, salads and aromatic hot dishes. The 24hr exchange rate is good, as is security.

Service is a fine art in this country. Expect staff to be in pristine uniform, kind, and exact about change, circa 6.3lire to the euro,  while the euro is often accepted in itself. An unhurried pace boosts the mood and sunset of soft exotic breezes.
Rose Rushe travelled with ww.sunway.ie and paid for all trips, meals and accommodation. Flights, transfer and self catering at Summer Garden on August 17 is €516pp; good half board and full board options.