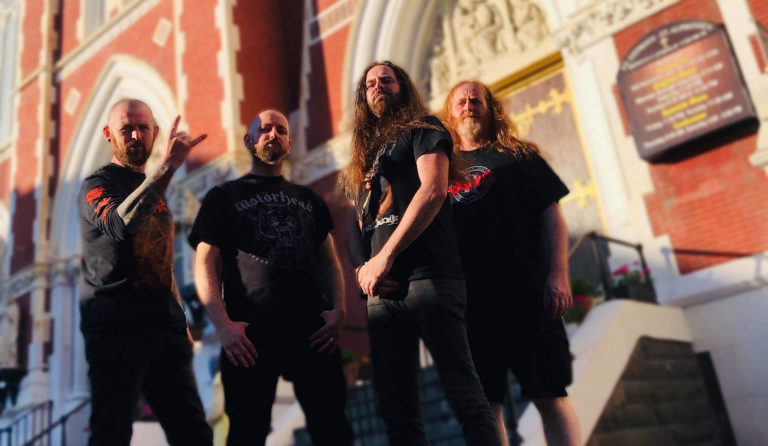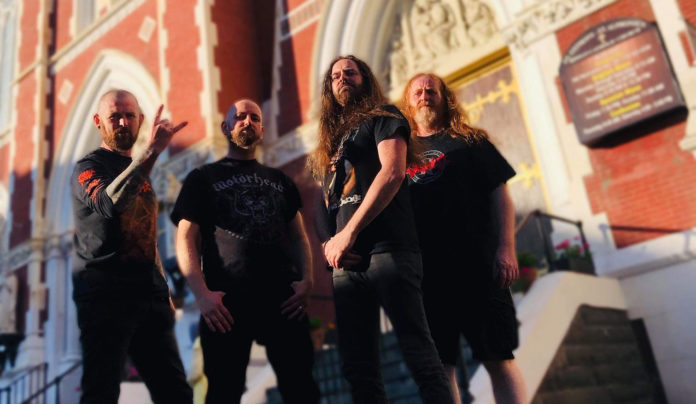 LIMERICK'S leading lights in metal are just back from a US tour and about to head to the UK for a festival date and a few gigs along the journey. Zealot Cult released their debut album in late 2018. The press loved it, the record was described by Metalireland.com as "a stunning debut album…Zealot Cult just have this game licked." US Decibel Magazine summed up with "This is sick…this record smokes."
And now festival and gig promoters are getting on board and offering shows in the US and Europe. Limerick Post chatted with Mick Carey this week, before the band play their biggest festival date so far.
Formed from the ashes of previous metal bands in the city, Zealot Cult is John Quigley on vocals and guitar, Mick Carey on guitar, Alan Lee on bass and Declan Malone (ex Swarm) on drums. The band came together in 2008; their sound is death metal, harking back to some Florida's finest proponents in the late 1980s.
Gigs were in short supply for Zealot Cult in their early days and it wasn't until they released their first EP in 2016, which is licenced to Swedish label Blood Harvest Records, that the band started to see real progress. Their Karmenian Crypt EP (2016) and a string of live solid gigs earned the band a reputation as a formidable act in the metal underground.
"It was tough going in the early days," says Mick. "We playing the same few venues in Dublin and Cork.
"I just sat down with my laptop one night and I started emailing a load of labels.
"Blood Harvest Records really liked us and they wanted to bring us out on vinyl and it grew from there.
"They don't get involved in any touring aspect of the band but they look after the distribution of the records."
The band started to pick better quality support slots and having a strong EP available worldwide on Blood Harvest Records helped cement credibility as the real deal with a bunch of favourable reviews.
Zealot Cult have shared the stage with Pestilence, Atheist, Possessed, Napalm Death, to just name a few.
The band have returned from a tour of the USA taking in East Coast venues in Washington, New Jersey and New York. A US promoter heard the album and booked the band for a short tour.
"There is a similar underground metal following that the band have here in Ireland. It is a niche genre."
Zealot Cult bring merchandise on tour for all shows. It is a major part of how the band can keep the show on the road. Along with T-Shirts, the band have CDs, vinyl albums and cassettes available at gigs.
Surprisingly the current run of cassettes sold out quickly. Mick reckons cassettes are seen as a novel way to support the band with vinyl being his preferred choice
"They [cassettes] are trendy and cool to have!
"I buy vinyl. Vinyl is actually genuine. When I am at home, it is all I listen to!"
Now one of the biggest independent metal festival promoters in the UK, has booked Zealot Cult for Bloodstock Open Air 2019, happening this weekend in Derbyshire and featuring headliners Scorpions, Anthrax and Sabaton.
"Normally you would have to compete in a Battle of the Bands type competition to get a slot at the festival, but Zealot Cult are on the second stage."
They open The Sophie Lancaster stage this Friday.
And with that the band has picked up two more gigs, two shows with Skeletal Remains in London and Manchester.
Here in Limerick the band have a base with Bad Reputation and play regularly for the promoters. Bad Rep recently pulled off their biggest show yet at King John's Castle with Behemoth and Amon Amarth.
Zealot Cult are very much a part of the Bad Rep community.
"We are all friends. We help each other out if they are stuck for equipment."
"They have grown from strength to strength."
Mick credits Bad Reputation with running gigs that encourage a good sense of community in the scene.
"It's always a good night. No hassle."
Looking ahead to the future, Zealot Cult will begin work on new material in September. They are working on "a split EP with Canadian death metal band Tribe of Pazuzu, featuring members of Pestilence, Cryptopsy and Incantation. And some European dates are also in the works for the band."
Zealot Cult will perform in Limerick as guests of old-school death metal band Memoriam at Dolan's Warehouse on Saturday September 7. That show is a Bad Reputation event.
https://zealotcult.bandcamp.com/album/spiritual-sickness