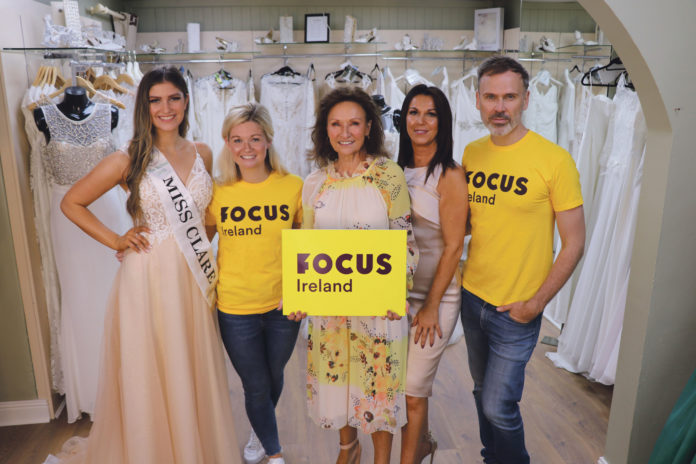 LIMERICK boutique Ciara's Closet has announced that they will be donating ten per cent of their profits from the sale of their debs' dresses to the Mid-West branch of Focus Ireland, for the month of August.
Focus Ireland is a non-profit organisation that provides services for people who are homeless and people at risk of homelessness.
Sign up for the weekly Limerick Post newsletter
Ciara's Closet is located at Unit 3 Belfield House on the Ennis Road, directly across from Limerick Strand Hotel. This glamorous boutique offers a range of beautiful dresses for sale or hire. Lines range from elegant evening wear to bridal, to bridesmaid's dresses to debutante's, and suitable for women of all ages.
Dee Morrissey of Ciara's Closet, says, "We decided to take part in this initiative in honour of our one-year anniversary. We are delighted to be supporting Focus Ireland, a service that provides endless support to those who are homeless or those who may face homelessness."
Celia Holman Lee visited to support this great initiative: "As an official ambassador for Focus Ireland, I am so honoured to support Ciara's Closet in raising invaluable funds that will be donated to ease the trauma of homelessness that Irish families are currently going through each day."
Aoife Sheehan, Midwest fundraising and marketing executive for Focus Ireland, told us that "according to a recent study carried out by Focus Ireland, the rate of homelessness in Limerick is increasing at an alarming rate with 265 adults currently without a home.
"There are 1,700 families homeless in Ireland today and this number is growing. In Limerick, Focus Ireland provides prevention and housing advice, support services for families, support services for young people, short and long-term housing, and research-based services.
"We are thrilled that Ciara's Closet has decided to support us and we are urging any young lady who is looking to buy a deb's dress, to visit Ciara's Closet during the month of August."