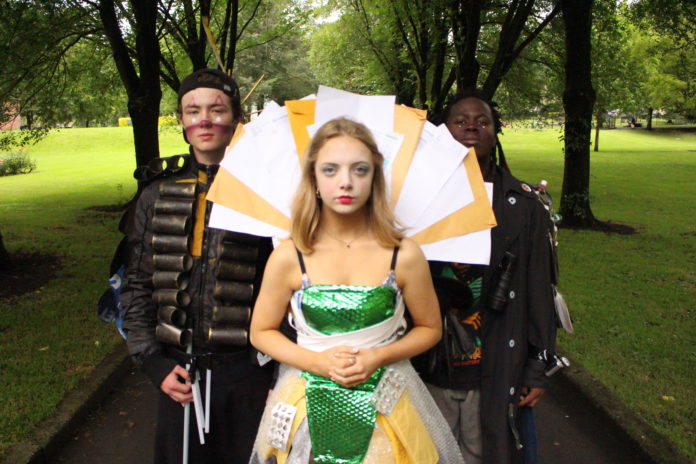 THEATRE goers, throw your minds back to City of Culture indigenous shows. One by Magic Roundabout Theatre Company was homage to Granny Royal de Luxe who came and conquered in blazing sun. 'In the Shadow of Big Beautiful Woman' was Magic Roundabout's inventive creation and a tribute to that seminal year's €6mn feed into culture and elevated profile.
A performer as well as playwright, BBW's author Darren Maher ['Spinal Krapp'] has written music for Limerick Youth Theatre previously, 'The Trial of Joseph K'. Directed by Ann Blake, that show was a knockout. Maher was almighty fine on stage in Magic Roundabout's 'American Bull', directed by Zeb Moore.
Now the Dubliner returns to the young LYT troupe, not just to direct but for them to premiere another work of his own, 'A Load of Rubbish.'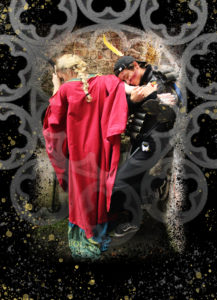 Darren and two LYT members, 1st year Shane Joyce [Limerick School of Acting] and 2nd year Elle Barry crossed over from rehearsals at Belltable to talk about the promising gumption to this play's theme. It's an invented world in which eco warriors are gods, or at least, aristocrats occupying the higher moral and societal ground.
'A Load of Rubbish' will premiere at Belltable August 15 to 17 at 8pm. Booking on venue manager www.limetreetheatre.ie
"I was asked to direct this year's show and they didn't have a specific play in mind, so we were talking about it. I suggest this one, which  was something I had.
"We read cast, wanted to do more with them and so we expanded the play to set the play within a play, using a framing device." Darren's smoke-and-bourbon voice pauses as he makes the next leap: "Now the original play is found by aliens and they have to do a report on it so they can go on Spring break."
In interview, there are chuckles because doing the obvs has never been this Mohawk'd writer's thing. "It's very straight forward and very readable," he asserts. "It was a play you could do with five or six people but LYT has expanded it, making their own musical instruments, using percussion and so on. A lot of work has gone into it.
"We have four aliens in a row as a framing device. In the play inside that play, there's a Garbagerie, a family group of grandfather, mother, grandson and they are attended to in a quasi-religious ceremony. There's a procession of Wasters who come to them. There's a Sad Waster and a Typical Waster and a Total Waster and so on."
More disbelieving laughter and "hopefully there will be laughs for the play," comments Elle Barry.  She is building on Transition Year Theatre experience and her own training in Speech and Drama, in a layering of skills and practice this year.
Her director nods. "It's almost an old fashioned comedy, with star-crossed lovers in different classes." The players are cast in castes such as Advertising Executives and Politicians, whose descendants are classified as "the untouchable subclass, known as Total Wasters."
The playwright underlines the dramatic lilt to the iambic pentameter verse throughout, voiced in Received Pronunciation.
All Limerick Youth Theatre members are on stage, as well as contributing to production values. The back up team impresses: Martin Shannon on set, Emily Waters on lighting, with Shane Hickey O'Mara, Kerrie Ahern and Kate Hodmon with various oversights.
Design and score are integrated to the drama. Elle says that "a lot of our costumes and our set are made of recycled rubbish and we take that into account. For instruments we have tins, biscuit tins, rice in packages."
From Shane: "We have barrels for drums, an old heater – a SuperSer, rulers, a trumpet as the only real instrument. With these we create a soundscape."
"Learning through practice," is his summation of this training unit, observing techniques and adapting to new tricks and skills.
We can view the Brave New World of The Garbagerie within 'A Load of Rubbish' from Thursday 15 to Saturday 17, 8pm shows.