RAPE Crisis Midwest saw a 12.5 per cent increase in demand for the services they provide in the region last year with 2,816 appointments offered.
The number of clients seen in 2018 at the Limerick-based service went up from 201 to 254. These men and women attended services for ongoing counselling on a weekly or fortnightly basis.
Sign up for the weekly Limerick Post newsletter
The increased demand for services is also reflected in traffic to their website which received more than 15,500 hits in 2018 — almost double the figure logging into the website in 2017. Of these, nearly 12,000 logged on to a specific part of the website relating to statistics and facts about rape and sexual abuse and using the service.
In total, the number of appointments offered in 2018 was 2,816. The breakdown of women and men coming through  Rape Crisis Midwest's doors remained largely the same with 83 per cent of their clients being women and the remaining 17 per cent, men.
This Saturday, August 17, Rape Crisis Midwest is holding a 10k paddle kayaking event, in conjunction with the Limerick Academy and Scouts Kayaking (LASK) club. Now in its fifth year, the event raises money to help maintain services locally.
The event is open to experienced and novice kayakers and equipment and full instructions will be provided to registered participants. Corporate partners supporting the event include lead sponsor Kemp Technologies with their staff members also participating in the event.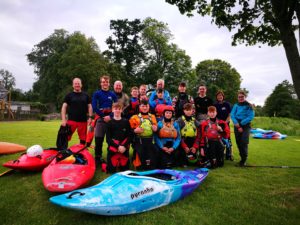 Marguerite Leen, Managing Director, EMEA –Kemp Technologies, Castletroy said, "Rape Crisis Midwest provide an invaluable service to the local community. Kemp is delighted to support its work through our sponsorship of Saturday's Kayaking event.
"Our employees have really gotten on board with their support too and quite a few team members will be taking to the water on Saturday".
Also supporting the event are Rape Crisis Midwest's charity partners Ishka, Pandora Confectionary and Irish Cement.
Limerick Civil Defence will be providing a foot patrol service on the day which will follow the flotilla down the river. All proceeds raised will stay locally in the region.
Booking for the event, taking place this Saturday, August 17 at 11am can be made by logging on to www.rapecrisis.ie.
For information on services available or for help contact Rape Crisis Midwest on 061 311511.