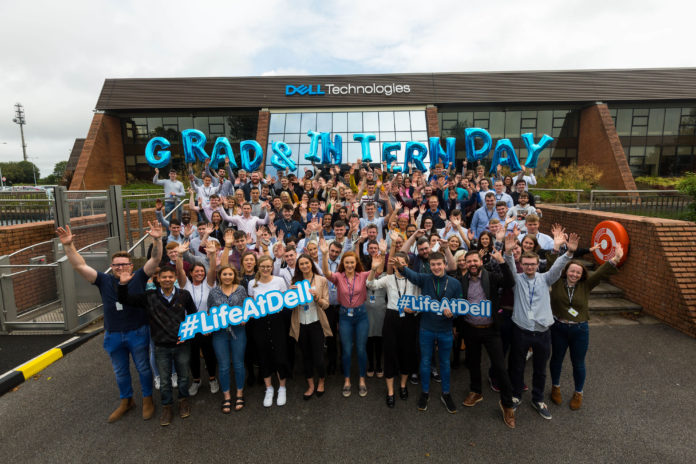 140 recently recruited Dell Technologies employees gathered at the Limerick campus to highlight the opportunities available to new recruits by fostering collaboration and innovation.
The attendees at the Grad and Intern Day have joined Dell Technologies from over 20 third level institutions from across Ireland. The new employees, who are based at the three campuses in Cork, Dublin and Limerick, work in every area of Dell Technologies Irish operation including IT, supply chain, project management, sales, technical support, finance and HR. 
Aongus Hegarty, EMEA President at Dell Technologies said: "I'm a firm believer that innovation comes from a diverse and collaborative culture, and at Dell we see our inclusivity as one of our greatest strengths. As our business continues to evolve, we must continue to attract the best talent and to do that we have set a goal that 25% of all external hires should be graduates.
"Days like today show how this strategy is working. It provides a brilliant opportunity for our new recruits to meet each other, build relationships and learn about all the exciting initiatives that are taking place across Dell Technologies Ireland. By getting all our innovative, future leaders together they can showcase some of the transformational work they are taking part in every day and foster collaboration across every area of our Irish operation. I am looking forward to seeing what initiatives will be developed in the future by these new recruits during their time at Dell Technologies."
Sean O'Reilly, Vice-President, EMEA Logistics and Acting Site Leader, Dell Technologies Limerick, General Manager, Dell Technologies Ireland added: "Part of what makes Dell such a vibrant work environment is the coming together of people with different backgrounds, harnessing multi-generational skills, with an ambition to push the boundaries of technology. Innovation is sparked by new talent joining our team, and we're fortunate to have access to a great pipeline of high calibre of graduates coming through third level bodies in Ireland. These new colleagues are working across every function of the Irish business, bringing unique perspectives and new ideas which fuel collaboration, empowering our teams to create new solutions which will drive human progress."
Dell Technologies is continuing its expansion in Ireland. Recruitment for 2020 graduate and intern roles will kick off this September with over 50 positions due to be advertised in the coming months. The #DellonTour team will be visiting 9 college campuses across Ireland in October. New opportunities within Dell can be found on jobs.dell.com