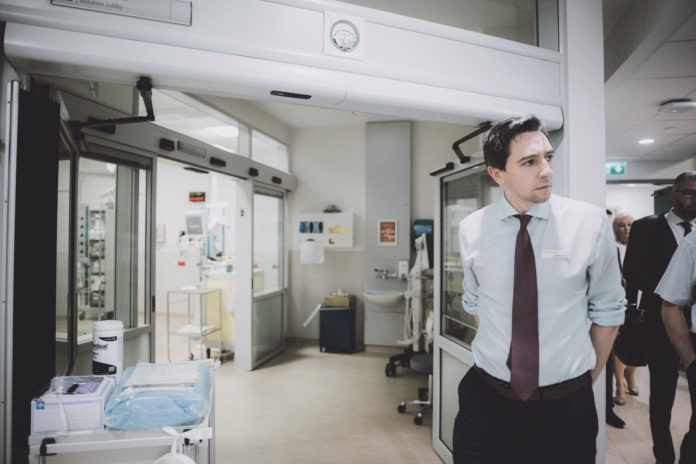 HEALTH Minister Simon Harris has been accused of sneaking in and out of Limerick to avoid answering questions about the trolley crisis.
The Minister made an unannounced visit to the emergency department last week on a day when there were near-record numbers of patients waiting on trolleys and in wards for a hospital bed.
Sinn Féin TD for Limerick City Maurice Quinlivan said, "I don't buy for one minute that Minister Harris's intention was to make a snap inspection of University Hospital Limerick just to see how things are going.
"The Minister's visit was unannounced, so he could sneak in and out of the Limerick hospital without facing hard questions from local representatives and from the media about the atrocious overcrowding and other problems at the hospital.
"It is not surprising that the Minister didn't want anyone to know he was arriving, considering 76 people were lying on trolleys in UHL at the time.
"A picture of him standing in the middle of the emergency department with 76 people on trolleys around him wouldn't do his image much good.
Deputy Quinlivan said it was no coincidence that Minister Harris was content to arrive and depart in secret, "considering the unanswered questions about the HSE awarding a contract for a new ward at UHL, to a company currently being sued for building defects in over 40 schools.
"However, I welcome the fact that he did visit the hospital to see for himself the severe overcrowding crisis that is putting patient's lives at risk and making it almost impossible for health staff to work in."
Meanwhile, an outbreak of a gastrointestinal bug and a rise in the number of frail older patients with complex medical needs has been blamed for the spike in overcrowding.
The record for overcrowding in UHL, and for any Irish hospital, is 81 patients.
The hospital says it has experienced high numbers of presentations and last week, an average of more than 220 patients turned up at the emergency department, compared with a daily average last year of 197.
A spokesman said the hospital was facing additional pressures accessing transitional care and home care package funding for patients who were fit to be discharged. Currently, there are 42 delayed discharges in the UL Hospitals Group. This is twice the average level.