LIMERICK Magician, Steve Spade, has ticked an event off his bucket list when he travelled to New York, USA, to the grave of his idol, Harry Houdini.
"It was amazing, something I've wanted to do since forever," he said, "I know it's a weird thing, but I'm a weird guy."
"It was cool to pay my respect," he told the Limerick Post, acknowledging the other greats such as David Copperfield, Chris Angel, and David Blaine once made a pilgrimage to the magician's grave.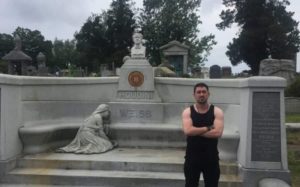 Spade, labelled 'The Irish Houdini' said the experience was "surreal" as he "saw him as a childhood hero", and having been to New York twice previously and missing the chance to visit Houdini's grave, Spade said, "third time was the charm."
His New York visit also included a trip to Times Square where he got to practice his magic on some passers-by, where he said the reactions were different to that of an Irish audience, "some great reactions, people were losing their minds, different to here, you always get a good reaction, but the American reaction is big and brash."
Steve will now take is tricks from Times Square to Electric Picnic this weekend in Stradbally as part of the Jerry Fish Electric Sideshow.