Limerick City and County Council's plan for a €9.1 million re-development of O'Connell Street has been met with widespread criticism. Rian mac Giobúin from EireannachTharLear.com looks at ten things that could have been included to make it into something spectacular.
1. Pedestrianisation
The volunteer group LiveableLimerick proposed a "super block" concept for the city which would have seen heavy vehicular traffic removed from the city centre, allowing the streets and public spaces to be used by people. While stopping short of full pedestrianisation, it would have given pedestrians priority and seen traffic yield to pedestrians. The council's plan has failed to do this, instead allowing through traffic on O'Connell Street while at the same time removing parking, satisfying neither those who advocated for full pedestrianisation nor those who want parking retained. Effectively, what has now been created is a slow-moving motorway going through the centre of the city.
2. Covered spaces
The plan doesn't seem to have taken Limerick's climate into account. By covering some parts of the street, shelter could have been provided for pedestrians and an opportunity created for an artistic installation that would give the city an iconic landmark. Covered urban spaces increase the amount of time people spend in a location, allow street vendors and markets to operate year-round, and can be used by the public for a range of recreational and artistic purposes.
3. Clean technology
London has recently launched its first ever "smart street". Described as a traffic-free "oasis", Bird Street has been fitted with special tiles that use visitors' footsteps to generate kinetic energy. This is converted into electricity to power bird sounds during the day and street lighting at night. The tiles also collect data to give an insight into the number of people walking down the street at a given time. The technology, called Pavegen, also rewards visitors for their footsteps and walkers can collect points for steps which can in turn be gifted to charities. The street also includes benches that remove harmful particles from the air and then emit clean air through the sides and armrests. There is no reason why this technology couldn't be trialled as part of the redevelopment of O'Connell Street.
4. Playgrounds
Playgrounds are a huge draw for families looking for a healthy day outdoors with their children, but there is only one playground within a five-minute walk of O'Connell Street. By removing through traffic on the street, a playground could have been built at the intersection between O'Connell Street/Bedford Row/Thomas Street. If we went further and fully pedestrianised the centre, we could have playgrounds all over the city.
5. Interactive features
Making a street interactive and engaging is a fantastic way to attract people into the city centre and helps keep visitors there longer. In Copenhagen, they have installed trampolines along the riverside. In London and New York, many streets and parks have installed table tennis tables. Interactive street art has been installed in other cities.
6. Bicycle lanes
According to the Council's plans, one of the objectives of the revitalisation was the promotion of walking and cycling in the city centre. Yet the plans don't include any dedicated cycle lanes as this "would not provide additional cyclist connections over the relatively short length of the scheme". Essentially what they are saying is that there's no point providing cycle lanes as there are no other cycle lanes to connect to. On that basis, Limerick will never have an integrated cycle network.
7. Sports facilities
Sports facilities are a big draw for people. While unconventional, if through traffic was removed from O'Connell Street there would be space for a running track, basketball court or AstroTurf pitch. Munster Rugby, Limerick GAA and Limerick FC could hold open training sessions and the pitches could be hired out for 5-a-side football, tag rugby, or general sports training.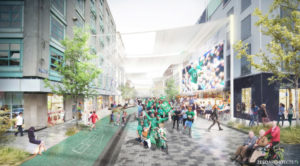 8. Greening the city
There are currently just three trees on O'Connell Street so the plan to plant a further 43 is positive. However, there is so much more that could have been done. Vertical gardens, parklets, roadside vegetation, roof gardens and green façades are just some of the ways we can improve the air quality, well-being, place making and aesthetic qualities of our cities.
9. Street art
The plans for O'Connell Street include seating areas, lighting, sculptures and water installations, but it's not clear what these features will look like. Street art and furniture can be a great way of encouraging people to spend some time in the city. Features such as open air theatres, oversized furniture, life-size games of chess and draughts, urban hammocks, swings, seesaws and street projections which could be used for street cinema, sporting events and art installations, are all great ways of encouraging people to visit and spend time in the city.
10. Have some fun!
The best streets are always the ones where you can have some fun and create memories. Streets with buskers, street performers and musicians, streets where kids can run around and play, and streets where people can sit outside and converse, joke and laugh with each other. Why not include something cheeky in the design like a 3D street painting or an on-street bubble machine. It's not too late for Limerick City and County Council to change the plans currently being proposed.
If you would like to make a submission or observation you can do so through the mypoint.limerick.ie website until September 6.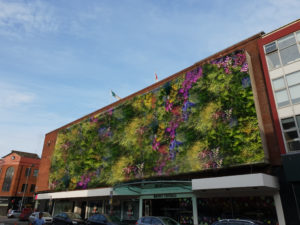 Follow us on Instagram, Facebook and Twitter @eiretharlear