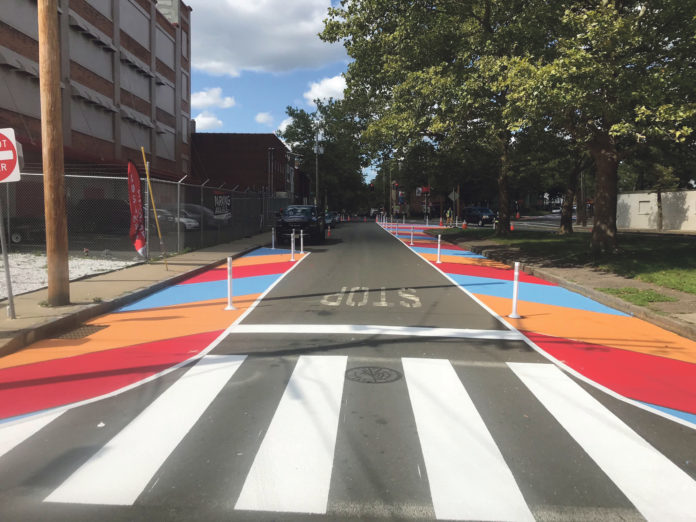 John Moran argues that it's not too late to re-think Limerick City and County Council's €9.1m
redevelopment plan for O'Connell Street and use it to develop Ireland's first low speed urban safety zone.
People are saying it is not good but at least it is better than we have, but better is not always good enough.
The recently published O'Connell Street proposals remains a missed opportunity for Limerick to lead the way. But it could be so easy with inexpensive fixes to make it a real start for a new model of a 21st Century liveable city centre.
Sign up for the weekly Limerick Post newsletter
Slowing down all traffic across our city centre, not just on this street and testing the new designs temporarily with removable paint and attractive planters/seating until it works well would be better solutions to bring people on board.
It would allow us to be bolder in what we trial.
Even though flawed, outright rejection and abandoning the street as it is are not the right answers.
The problem is that major issues remain unresolved on how our city will work in the future.
In an effort to retain flexibility we have a weak compromise, not a bold statement of intent.
Particularly difficult, the mobility strategy to say where and how we get around the city is not ready.
Another problem is that the development plan showing where and how our population will double is not finalised and decisions requiring significant spending risk being premature and the wrong ones.
The overriding priority for this proposal seems to be "the least negative impact" on traffic using a street to cut through our city.
But the plan will not change our city centre for the better if the interests of passing (mainly car) users trump the interests and safety of other users of the space, especially those we want to see live in town.
For liveable lived-in urban space we have to be braver.
City retailers need an interesting destination for casual visitors but more critically need greater numbers living right there who enjoy it everyday without ever having to get into a car.
For more people to choose to live in the city we must value their interests for clean air, safety and amenities and perhaps less so those using city streets to pass through or to escape to their homes outside the city.
The upgrade of our city requires a fuller holistic plan.
The #LiveableLimerick vision which captured public imagination of a street with different animated zones each reflecting our region can still form part of that future plan.
But even today, elements of the new plans should work well.
It is right to reduce (not eliminate) car movements and enhance the space for others.
So, can we still move forward before guidance from the other broader plans? We can.
Defer for now heavy engineering and related costs.
O'Connell Street already structurally supports two lanes.
The footpaths can be widened at low cost with paint and really attractive planters (and even temporary wooden decking).
As in other cities, try the new layouts first on a cheaper basis with reversible technology.
As other broader plans are agreed by the Council, modifications can be introduced based on observation of changed behaviours not conjecture or unconscious bias.
LCCC already took that approach when I first suggested the idea of an urban garden (not taxi rank) in front of Penney's. With a safe space, people gathered. A low cost experiment showed a better way. Indeed, the new plans rightly now propose a permanent upgrade.
But above all, based on what works elsewhere the guiding principle should be safety.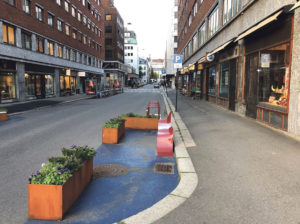 If cars must cut through the city, at least they should slow down.
As the urbanist Jeff Speck put it "would you rather have a downtown that is quick to drive through or one worth arriving at?"
Anyone driving 27 mins to Debenhams from Killaloe would need a minute or so more to drive up to the Belltable at 30km (the proposed new speed limit).
But at a 15 km speed limit, the 28 min drive would become a 29 min journey.
A one minute price for safety of road users, including those in the car.
And at 15 km, reaction times improve too. Collisions might even be avoided altogether.
The penny has dropped all over the world. We want more people not more passing cars in towns.
People gather and stay in places where they feel safe.
The solution is not, however, isolating them from speeding cars with bollards.
The answer is a safe speed limit and reducing illegal speeding by enforcement and design.
Designing 4-way stop junctions instead of traffic lights to speed to as they turn orange would also enhance safety.
This could be done with almost no expenditure – Imagine the impact if done immediately all over the Georgian quarter and the retail core.
Decisions guided by safety first and cans of paint and seats and trees and planters. No noisy dirty roadworks as we trial the plans being proposed.
We should very well find
• less cars cutting through our city needing space in the final plans;
• no need for a dedicated bus lane to bypass congestion in the other lane;
• that liberated lane could become band stands, fish ponds, bike stands or 15-30 minute car parking to facilitate quick pickups and provide protection for the people sitting nearby;
• adults and children safely cycling our streets again
• the rugby experience and/or UL's arrival completely reimagine the pedestrian flows and needs more than we thought;
We might even find less resistance then to citywide mobility plans proposing other options to throughway traffic or buses so that only cars needing access should use our historic centre.
It is time for people to raise their voices again and let the councilors know this matters to them.
It is time for our politicians to inspire and lead with yet another "first" for Limerick – Ireland's first sub 15km city centre for all.