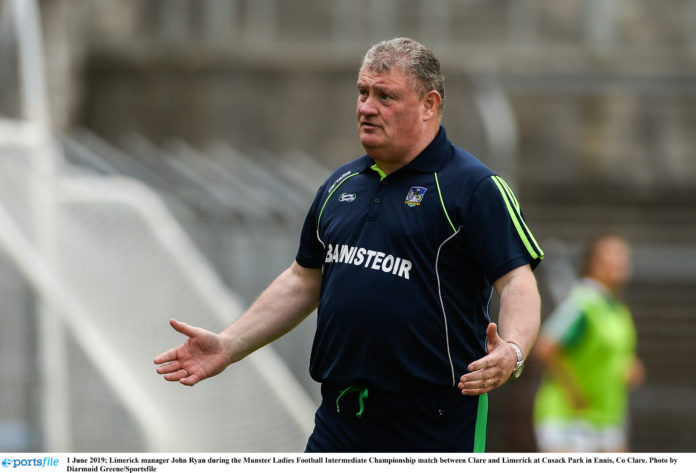 John Ryan has today stepped down from his role as manager of the Limerick Ladies Footballers.
In his two years in charge, Ryan oversaw Limericks successful All Ireland Junior campaign in 2018.
2019 saw Limerick relegated back to the Junior ranks after one year at Intermediate.
Ryan wrote a letter of resignation today saying,
To whom it may concern,
I am writing to you regarding my position as Limerick Ladies Football Manager. I have decided that I am stepping down from the position due to work and family commitments.
It has been an exceptional two years. I have worked with great people.
Firstly I would like to thank the players for their hard work and commitment. To a fantastic captain in Cathy Mee, a great leader. To the players committee, for their professionalism and high standards that they set over the two years.
To the management team of Liam O'Connell, Paul Butler, Pakie O'Gorman, Mary O'Mahony, Aideen Fitzpatrick, Darragh Kennedy, Kate Lynch and Aidan McMahon. I would like to Thank you all for your dedication, hard work and professionalism. Thanks to Jim Moran and Debbie Carrol for the fantastic year in 2018. Also a thank you to Seamus O'Donnell and Liam Kearns for their continuous support.
To our fantastic sponsors, The Woodlands House Hotel. Thank you to the Fitzgerald Family for their generosity and hospitality over the last two years.
To all the media, for their fantastic coverage of our games and promoting Ladies Football in the County.
To the County Board, thanks for their backing and support over the two years.
To the Limerick Supporters, who were the 16th player in Croke Park 2018.
To the Ladies Football Clubs within the County, to keep up the hard work at underage and senior level.
Best of Luck to the Panel and management going forward with their Club Championships.
Yours in Sport,
John Ryan"
The post John Ryan steps down as Ladies Football manger appeared first on Sporting Limerick.