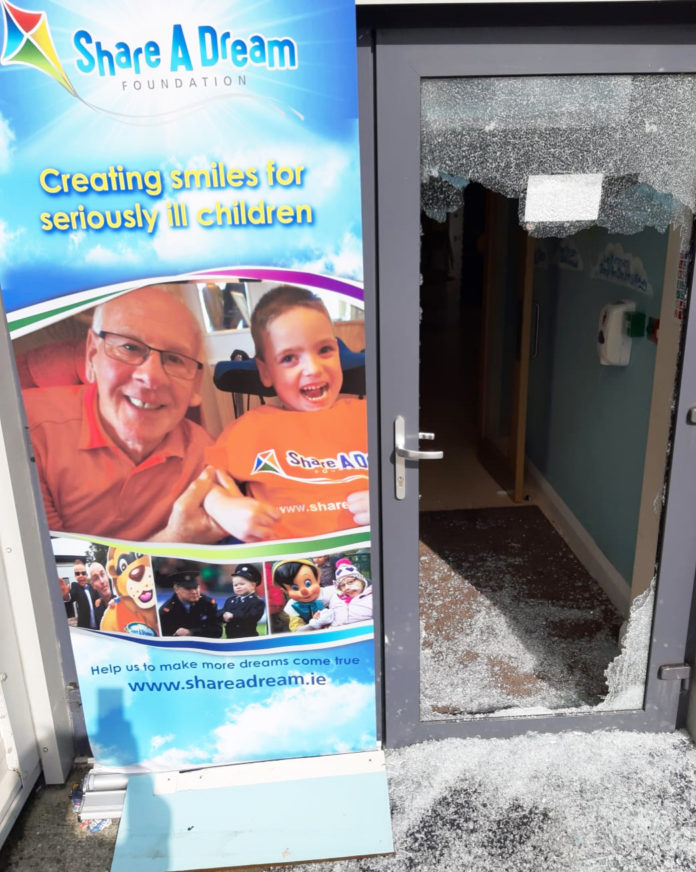 A LIMERICK charity that organises dream days out for seriously ill children has said that the thieves that robbed it of thousands of euro could one day need the service themselves.
The Share A Dream Foundation's premises 'Dreamland' in Plassey was burgled by a three-man gang on Tuesday night September 3 when a giant glass globe filled with money and a cash register was stolen.
"They caused substantial damage and stole funds we had raised to make dreams come true for 15 children fighting terrible life-threatening illnesses. We are totally devastated," said projects manager Ciara Brolley.
The robbery was recorded on CCTV and Gardaí have appealed for information.
"People just can't believe how anyone could do that, because when you come in and see all the work the centre does, and you see all the photos of the kids here, you'd be wondering  if a criminal even has a heart."
"And, who is to say we won't be helping one of them in the morning," she added.
"They were wearing white boiler suits and their faces were covered. They had gloves on. All you can see are these grey bodies in white. They took money from a donation globe and smashed the cash register as well".
The gang initially tried to force the door open and then used an axe to smash their way through the front entrance glass door.
Their getaway car, a silver-coloured people carrier, reversed up to the door and the gang loaded it up with the donations globe and cash register.
One of them can be seen acting as a lookout during the course of the robbery.
"It was literally five minutes. The damage to the door, and the money taken, was a couple of grand anyway. There was probably over a thousand in the globe and the till had more money in it," Ms Brolly said.
"The globe was there to encourage people to donate towards the children's dreams."
They covered their faces all of the time. I think they had something up around their mouth. You could just probably see their eyes," she said.
Ms Brolly said the service was "struggling all the time" to cope in a competitive market.
"It's not that we are going to close, but there is so much competition out there at the moment. Unless you're looking at the big market and employing people for €100,000 a year to get your name out, you're never going to get the big corporates or big events," she added.
"If we were to do that in the morning, we wouldn't have a hope."
She said it costs between €200,000 and €250,000 to run Share A Dream, which was founded in 1989 by Shay Kinsella. Two years ago, he launched Dreamland, a play centre for children with special needs, which also caters for birthday parties and group events.
"Our money comes from fundraising, donations and bookings at the centre, for events like Santa and school visits".
Ms Brolly appealed for anyone interested in fundraising, sponsorship or volunteering to contact www.shareadream.ie or 061-200080.