The business community turned out in great numbers to hear Leanne Storan, Head of Tax, EY, Seamus Coffey, Chairperson Irish Fiscal Advisory and Professor Stephen Kinsella at Limerick Chamber's Autumn lunch event sponsored by EY and supported by our media partner the Limerick Post. The Autumn lunch looked at topical issues such as Budget 2020, Brexit, and global economic issues.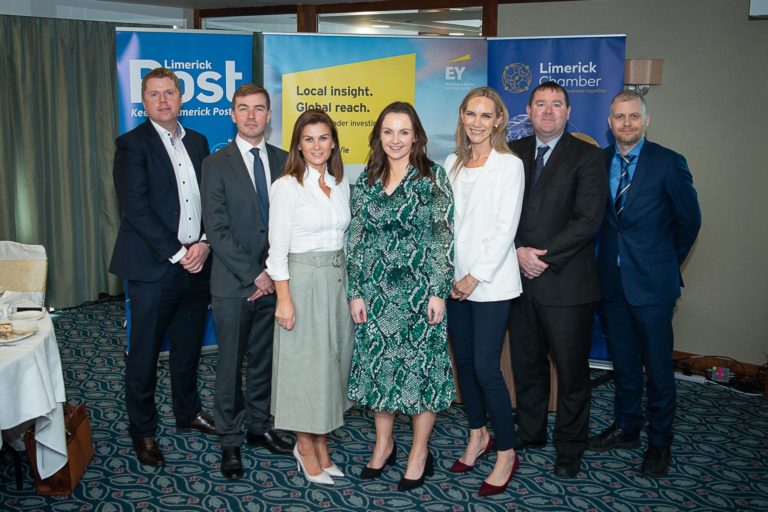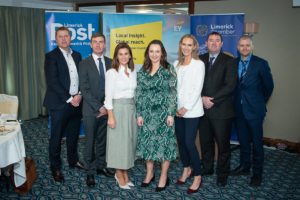 First speaker, Leanne Storan, Head of Tax, EY, spoke on a conservative budget with minimal personal tax changes, social welfare increases and spending changes.
Dr Catriona Cahill, Chamber Economist Limerick Chamber described our next speaker as the best positioned person in the country to speak about the upcoming budget, Seamus Coffey, Chairperson Irish Fiscal Advisory Council, voiced his concern about the worrying trend emerging in recent years in net policy spending. He was critical of the government failure to spend within budget parameters.
Lastly, we had Professor Stephen Kinsella who gave a good insight into Brexit and the potential implications. Professor Kinsella gave a valuable insight into how workers will fare in Brexit exposed sectors, showing South Dublin as the least affected and counties such as Donegal, Longford and Leitrim being potentially most affected. Professor Kinsella closed his talk with an insight into how we are fairly well prepared for the sectoral shock and for the balance of payments shock, but we are not at all prepared for the regional shock.
Leanne Storan, Head of Tax, EY, commented, "EY were delighted to sponsor the luncheon with Limerick Chamber. Great insights and perspectives from Seamus Coffey and Stephen Kinsella, leaving us lots to think about and indeed worry about as we edge closer to a no deal Brexit. As I mentioned in my presentation while there is little to look forward to in Budget 2020, there are many issues which should remain on the Government's agenda in the short term which would support in particular our Irish SMEs and encourage investment for example enhancements to Entrepreneurs relief and the R&D tax credit regime."