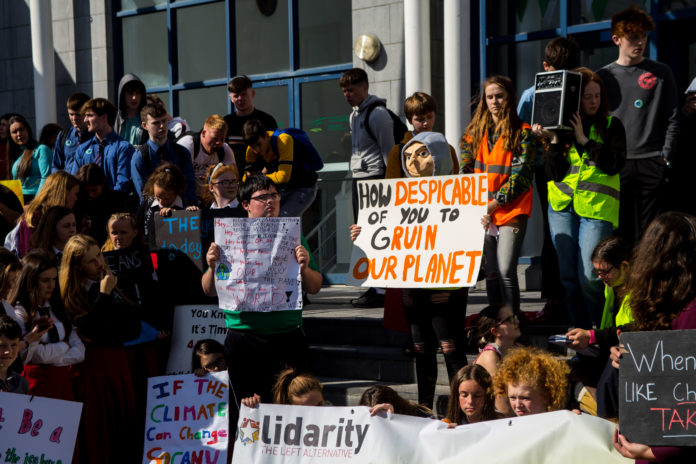 A LIMERICK secondary school principal has confirmed that students who joined in last week's climate strike in the city without permission will not face any sanction.
Castletroy College Principal Padraig Flanagan told the Limerick Post that the vast majority of students at the school attended the march "by proper school procedures", but some left without having received permission from the school.
Sign up for the weekly Limerick Post newsletter
According to Google maps, the school is 7.2km from the climate strike meeting point at Arthur's Quay Park.
"I'm not denying that a number of students left without permission but the vast majority left under the proper procedures," Mr Flanagan said.
He explained that up to 60 students, out of total school population of 1200, left the school to join hundreds more in the strike in Limerick city.
He said that many parents collected their children from the school and took them to the march meeting point while others travelled there via a local bus service.
A number of others" did not adhere to proper procedures – and while he had no issue with students supporting such a  worthy cause, the school would be "contacting families to remind them" of school procedures.
"It's not concerning, as long as they are all okay. We're not interested in imposing sanctions on the students," he added.
Speaking at the protest march, a student attending the school said: "We weren't specifically allowed, we weren't encouraged to, but we found our way out, and they didn't stop us."
"It was a very big group of students, so they saw us and told us to 'get to class', but we went around the other way and came out the PE Hall door. They must have known we left".
Asked if they had told the school they were leaving, the student replied: "Not specifically, but they knew we were on our way."
The students said they had informed their parents they would be attending the march.
Another student added: "We didn't sneak out, but it was a bit of a forceful exit, but it's worth it. There were fifty or sixty of us involved."
Holding a large banner which read "Like the sea levels we rise" as many as five hundred mostly student climate strikers took part in the march through Limerick city centre.
One of the Castletroy College students said they were trying as many things as they could do to tackle the climate crisis: "I'm a vegetarian and I encourage others not to eat meat; I don't use plastic bottles and I try to cut down on using tinfoil and cling film and I try to avoid using no-reusable packaging."
"Something needs to be done and I still want to live here and I don't want to die from climate change. I like nature and I want the world to stay beautiful," the student added.
Fourteen-year-old Saoirse Exton, a third-year student from Gaelcholaiste Luimnigh, who organised the march as part of the Friday's for Future Limerick group, said: "The government isn't taking enough action on climate change.
"I'm very worried about the future of the planet but I also have the optimistic view that we will overcome, and our planet will become more sustainable than it ever has been before in this modern era."
"If we can't change anything, it's the end of our world as we know it. One million species of animals and plants are at risk of extinction from climate change.
"Limerick will flood, Venice will disappear. It's ridiculous. People will die. One billion refugees will be created by climate change," she claimed.
Limerick Labour Party TD and former Education Minister Jan O'Sullivan, who took part in the march, called on the Taoiseach to increase the carbon tax but to ensure the poorest people don't have to pay the most for their fuel.
"Labour has been calling for a full retrofitting scheme for all local authority houses, which by definition are poor families. To avail of the current grants available under the Sustainable Energy Authority of Ireland, you have to provide matching funding, but many poor households can't afford to do that, so that is the first focus we need."
Deputy O'Sullivan said she would be prepared to "soak up" an increased carbon tax.
"I would not shy away from a carbon tax and those of us who drive cars will have to soak it up. I am driving a diesel car but my next one is going to be electric."
"Like many people, I don't have the confidence to believe there would be enough charging points to get me up and down to the Dáil every week, and I take the train as well. We need those charging points, and we need practical measures that will actually make it possible for people to do their bit," she said.
Meek McGann from Clarina, who marched with daughters Amara (8) and Calla (6), said: "The younger generation are saving the older generation, which is backwards.
"The fact that we are being led by secondary school students is a shameful thing, but I think it's the model I would like my own kids to follow."