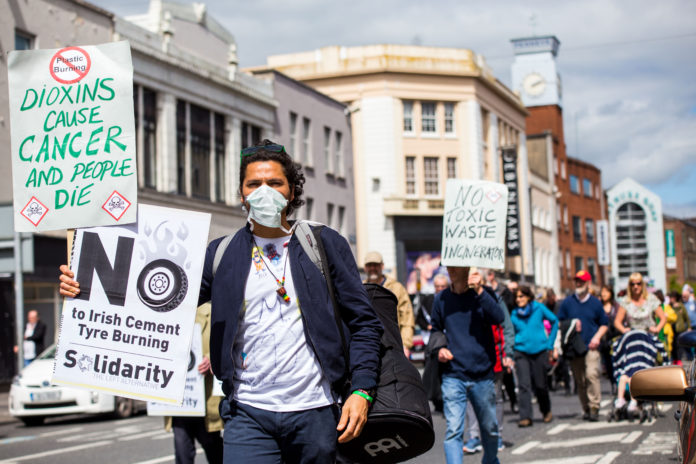 A PROTEST is planned for the city next month after Irish Cement's controversial €10m plans to phase out fossil fuels in favour of burning used tyres got the green light from the Environmental Protection Agency (EPA).
There has been widespread shock since last Thursday's announcement that Ireland's leading cement supplier has been granted permission to burn alternative waste-derived fuel at its Castlemungret plant.
However, the EPA said it is satisfied that the emissions from the installation when operated in accordance with the conditions of the proposed licence will meet all required environmental protection standards and will not endanger human health or harm the environment in the vicinity of the installation or over a wider area. Irish Cement's proposal to burn alternative fuels is now subject to a 28-day appeal.
Limerick Against Pollution (LAP), who have fought the application for four years, say they are now regrouping and deciding their next steps.
"To say we are extremely disappointed is an understatement. We have 28 days to appeal the decision," LAP spokesperson Claire Keating told the Limerick Post.
The decision by the EPA to grant a licence to Irish Cement to burn tyres and other waste at high temperatures has been described as "flying in the face of widespread public concerns" by Limerick Labour TD Jan O'Sullivan.
"There is a large population living close to the plant as well as new schools, playground and public park, thanks to the foresight and public investment of Limerick City and County Council and the Department of Education and Skills where I was able to play my part. The fear now is that these, and the wider Limerick and Clare environs, will be at risk as a result of this decision," Deputy O'Sullivan commented.
Sinn Féin TD for Limerick City Maurice Quinlivan also slammed the decision to award Irish Cement a licence to burn tyres at its plant on the outskirts of the city.
"I am appalled that Irish Cement has been awarded a license by the EPA to burn tyres and other rubbish at their plant in Mungret in Limerick, an area surrounded by homes, sports fields and other community facilities.
"Local people don't want this incinerator. Businesses don't want it. Politicians don't want it," he declared.
Former Mayor of Limerick, Cllr James Collins deemed the EPA's decision as "hugely disappointing" and predicts it will damage public health and Limerick's reputation as a clean, green city.
"It makes absolutely no sense that we allow incineration in an area that is adjacent to a public park four schools and one of the largest concentrations of housing in the city.  Limerick has been sold out by the EPA and the Government on this," Cllr Collins claimed.
Green Party MEP  Grace O'Sullivan also expressed her disappointment at the decision. She hopes there are stringent requirements for independent monitoring built in, with severe punitive penalties for noncompliance.
A protest march will take place at City Hall on Saturday, October 5 with further protests organised over the coming week, including a demonstration at Mungret National School at 12 noon on Wednesday, October 2.
The deadline for objections to be submitted against Irish Cement's proposal is October 15.