FOUR years of touring is striking evidence of demand for 'A Murder is Announced; A Miss Marple Mystery'. This lush, dark, well-heeled drama arrives in Limerick, staging  its shot heart at Lime Tree Theatre on Monday 30. Exciting times that result with the sleuthing entry of "Miss Marple, who must unravel a complex series of relationships and events to solve the mystery of the killer…"
Spurred by danger, Limerick Post picked up the phone to Miss Marple/ actress Sarah Thomas in Britain. Her aristocratic features you know well from TV splendour in 'Last of the Summer Wine' and umpteen more such as 'Heartbeat' and 'Doctors'.
Sign up for the weekly Limerick Post newsletter
Sarah Thomas is a concise and revealing interviewee, open to advising emerging actors who struggle with contracts and competition.  One tool she used was writing cheeky, witty letters directly to producers and directors to pique interest.
Her own path was lucky and privileged enough. Although infused with a sense of theatre values by her am-dram crazed mother, "I didn't necessarily want to be an actor."
But top theatre schools offered placement, both Rose Buford and Guildhall. She chose the former on foot of a savvy recommendation and has never looked back.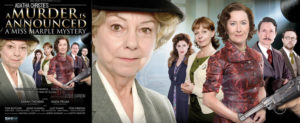 Layered in technique as an actor, Sarah Thomas can do severity with hauteur. One part she relished was Mrs Danvers in 'Rebecca'. I thought she might have and pitched that first.  "One of my favourite roles in stage theatre," she smiles down the line.  Her voice is warm and level. "Mrs Danvers has been depicted in roles as very cold yet a part of her was very involved with the woman (Rebecca) who had been."
Thomas' kind of director is one who knows what he/ she is doing and how to get it. She seems unmoved by what is usual today: "A lot of them want to find a new approach. A director who goes to the text, delves in to it, that's very good."
Now, into the tweeds of Agatha Christie's iconic Miss Marple.
"The  plot is that an advertisement has been placed in the paper that a murder will take place on Friday the thirteenth in Little Paddocks — Little Paddocks is the name of the house. The neighbours are all nosy and nobody wants to be left out so they all gather at the same time at the house. They think this is going to be a good sort of game."
Amen to that. The lights go out, a shot rings out and murder, she cried.
Huge secrecy is attached to what lies ahead in this beautiful looking production from Middle Ground Theatre Company. This is the outfit behind the admired courtroom drama 'The Verdict' and for the Paddocks' pandemonium, Michael Lunney is designer and director.
You are going to enjoy the well known cast with actors such as Kazia  Pelka (Heartbeat/ World's End/ Family Affairs), Tom Butcher (The Bill/ Doctors), Lucy Evans (Coronation Street) and Jenny Funnell (As Time Goes By).
Hold the namecheck, though. What brings Miss Marple to this exciting village of Chipping Cleghorn? She must have a nose like a jackal.
Sarah Thomas is fond of the old dear. "It is not her own village. Miss Marple is staying with her nephew nearby and is being treated for rheumatism in the local spa."
It's a chuckle how human the indefatigable Christie was in making her mysteries breath with true-life foibles. Thomas perceives Miss Marple as "intelligent and not easily fooled by people. She sees through things and picks up things along the way and stores it all up." The kill done, she goes back to the vicarage where she is staying with her nephew, who is a doctor.
What is clear is that the investigation is more lumbering than rumbling. The inspector who calls is not up to this accidental sleuth, mind forever active and as sharp as her hatpin. Deliciously frightening fun awaits in a run from Monday 30 into Wednesday October 2 in the shade of Chipping Cleghorn. Little England, be very afraid.