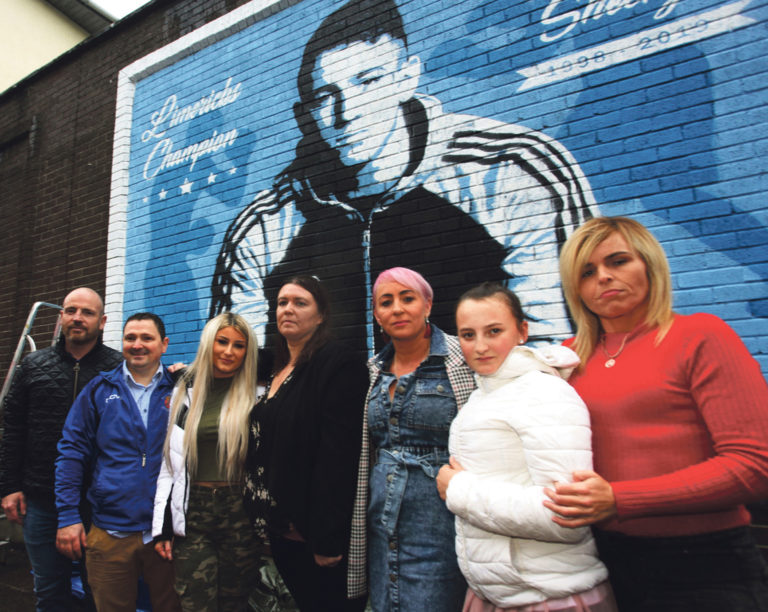 TRACEY Tully smiled as she admired the giant mural honouring her son on the wall outside St Francis Boxing Club in Limerick City.
The mother of five-time Irish boxing champion Kevin Sheehy, who was killed while walking home three months ago,  simply commented: "We've brought our champ home".
Since he was fifteen, Kevin had spent almost every waking hour at the boxing club on Old Francis Street, sparring and training under the tutelage of Ken Moore. Within five years he was a national champion and well on the way to representing Ireland at the Olympic Games.
All that promise was wiped out in the early hours of Monday, July 1 when he was fatally injured after being hit by a vehicle on the Hyde Road.
While his family and friends tried to take it all in, Gardaí arrested and charged 29-year-old Logan Jackson from Coventry in England with his murder.
Speaking outside her son's boxing club last weekend, Ms Tully said: "We used to bring him here. He loved all art and all this kind of work. He loved murals, absolutely loved them.
"I used to have to drive him around when he was very young, down around this area actually, just to have a look at all the murals. We've brought our champ home."
The giant mural, designed by Dublin based street artists ADW, shows the much-loved athlete between two boxer silhouettes, and the words "Limerick's Champion".
"It's beautiful to know that he is remembered here. This is his second home."
Fighting back tears, she added: "It is very hard to put into words, to be honest, how I'm feeling right now."
Kevin Sheehy's daughter Kevaeh, who was born shortly after his death, was brought to the unveiling ceremony by her mother, Emma.
A large crowd braved downpours to support the unveiling, commissioned by St Francis boxing coach Ken Moore and his wife Marion.
"We are very proud. We always knew he was very special and he had that effect on people. He was very kind, he had a beautiful personality. He was very positive, and I'm very proud to be his mother," Ms Tully added.
Kevin Sheehy Snr described the unveiling of his son's mural as a bittersweet moment – "sad in one way, but also very proud that Ken and his wife Marion did this for Kevin".
"It's a lovely gesture and we appreciate it," he added.
Sheehy Snr and his father before him were St Francis boxers – proud of their heritage in "the oldest club in Ireland".
"A lot of lads from Limerick came through these doors. It's a great place. They do great things for kids around here, and they did great things for my son. I'll always be grateful to them for that."
"He only stated boxing at 15, but he was kickboxing since he was eight. He's always been involved in sports, rugby and football. He was very good at all sports."
"He was captain of the rugby team and captain of the football team, Irish kickboxing champion, five times Irish boxing champion. He had it all ahead of him."
His granddaughter's birth so soon after his son's death was "a little bit of a silver lining in a terrible situation for us".
He laughed, describing how after her birth  Kevaeh was photographed holding her little mitts up to her face like a pro-boxer.
"I hope she doesn't feel like she has to become a boxer. But it looks as though somehow that's what she wants to do."