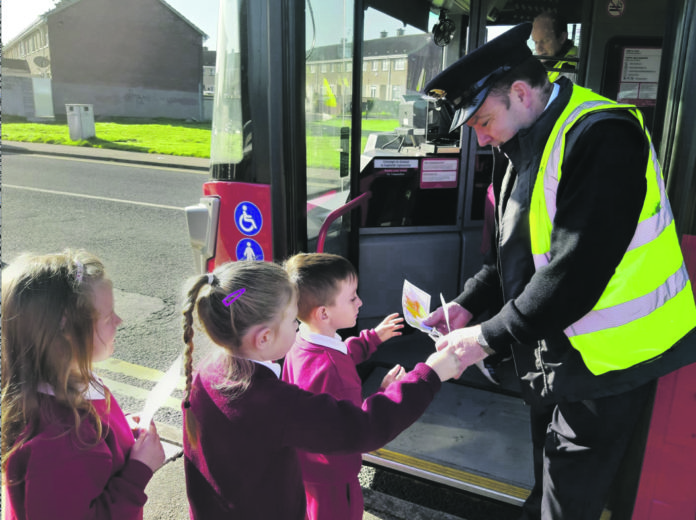 MORE than 200 students from three primary schools in Limerick city took part in a 'Bus in the City' workshop to raise awareness about the benefits of public transport.
As part of European Mobility Week, students from senior infants, first and second class at Corpus Christi NS, Limerick Educate Together NS and Gaelscoil Sáirséal were invited to experience the Bus Éireann City Bus service to teach them about public transport in Limerick.
The unique event saw Bus Éireann, Green-Schools Travel, and the Henry Street Community Garda Unit work alongside the schools to deliver an effective and locally relevant educational workshop for sustainable travel.
Green-School Officer, Fiona Barry, met each class to discuss the environmental impact of travel and how opting for bus transport can greatly reduce traffic congestion in urban areas.
The students then boarded the double-decker bus waiting outside the school, presenting their handmade tickets to bus inspector William Doyle.
For many students, it was their first time travelling on a city bus and all enjoyed viewing Limerick city from a new perspective on the top of the double-decker bus.
The journey brought the students along the Limerick city bus routes relevant to their school's location, stopping at Colbert Station and Henry Street Garda Station.
At Colbert Station, William Doyle spoke to the students about various features of the bus and the value of the Leap Card.
At Henry Street Garda Station, community gardaí discussed road and travel safety with the students.
Ms Barry commented: "Active travel and public transport are key to helping reduce our carbon emissions and traffic congestion in our city. I would like to thank the schools, Bus Éireann and the gardaí for providing a wonderful learning experience for the students outside of the classroom which I think they all enjoyed."
by Kathy Masterson
[email protected]