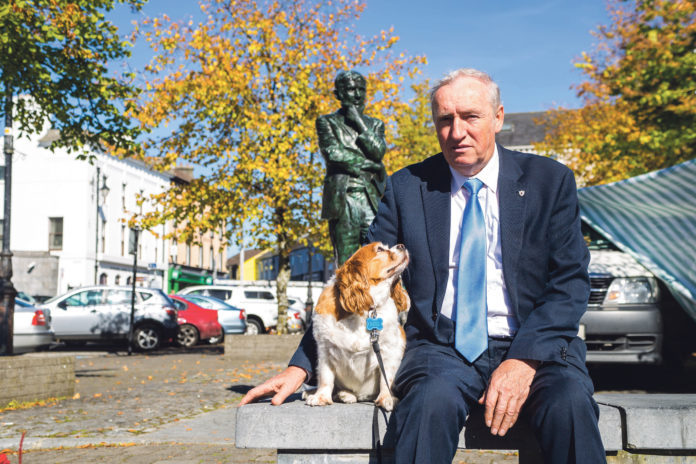 INTEGRAL to the hinterland's rich heritage is the restored Rambling House, sentry venue to Knockfierna Hill  – between Ballingarry and the county capital. Knockfierna translates as Cnoc Fírinne (hill of truth) as the locals find that reading the summit as a reliable weather guide. Good on them.
Their energetic heritage society's Pat O'Donovan speaks of the hill as emblematic of Irish famine times, and it is host to the ruins of village homes from that ravaged era.
"At the entrance by the Rambling House we have built the wall which we think is one of the finest and most exciting walls in Ireland," says this passionate local historian (and antique dealer). "It is 100 feet long and built of sandstone and we have 35 plaques of limestone in the wall – so it has to be seen to be understood.
"Originally Knockfierna was the site of the festival of Lughnasa, one of the oldest Irish festivals that is celebrated on the last Sunday of July and August, the coming of the harvest. July was the hungry month with all the crops used up so the end of the July was to be celebrated."
The plaques are varied with old Irish sayings on some, sean fhocail ('a closed mouth catches no flies') in English and Irish on the one stone.
"About the birds and the bees, and the flora and the fauna, we have those there and the names of all the population who were there in 1830, 1852, in 1910. We then moved on to population trends later in the 20th century [emigration's second bite]. And we have famine bits and pieces as well."
Finally able to get insurance after 30 years for Rambling House, at his own expense, as with the restoration, there are episodic céilúiradh there for Samhain etc, music and poetry. He speaks of the historic sense to the Sweat House, the sort of 'hot box' that a fevered sick person would be placed in to sweat out their illness.
Funding? And by whom in this stretch of 150 acres owned by no-one?
Pat coughs. "We are at it 35 years. We have 10 famine houses restored, just to roof level. There are about 10 of us, we are old-age pensioners, men and women – Knockfierna Heritage Society. We just continued. We opened all the roadways and walkways. We put down a new carpark and fencing.
"Síle Devalera unveiled a big rock we put down on for a Famine memorial."
There are more headstones to be laid down, commemorating the deceased poets of County Limerick and work is ever progressing.  The village is an authentic, unique exemplar of living history.
Moving on, "that whole triangle will then be a poets' way. It will be all open and all free."