Amanda Palmer talks to Limerick Post about her love of The Cranberries and the inspiration she took from Ireland's Eight Amendment Repeal referendum
SINGER, songwriter, writer and performance artist Amanda Palmer is on a solo tour with her new critically acclaimed album 'There Will Be No Intermission'.
The shows will feature Amanda on solo piano and ukulele. It promises to be a night of graphic, honest and funny storytelling and songs that Palmer claims will form her "most human and vulnerable stage-show to date."
You can take passion and raw honesty for granted when you talk to Amanda Palmer. Her latest album got a huge favourable reaction and her courage to tackle very personal subjects, abortion and miscarriage, has given Amanda an audience that appreciates her giving voice to life events that are often dealt with in private.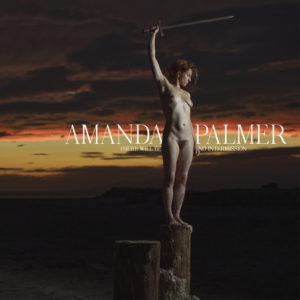 Amanda was part of punk cabaret duo Dresden Dolls before embarking on a solo career. She has collaborated with Ben Folds, Jherek Bischoff, Brendan Maclean. Her 2008 solo album 'Who Killed Amanda Palmer' was released on Roadrunner Records.
In 2014 she wrote a memoir/ part self-help book 'The Art of Asking: How I Learned to Stop Worrying and Let People Help' which explored her vastly successful crowdfunding campaigns that allows her to release music independently.
Her third solo album 'There Will Be No Intermission' has been reviewed as a career best as she fearlessly tackles the big subjects, life, death and grief.
Her stunning track 'Voicemail For Jill' was inspired while touring here in Ireland while the country voted on repealing the Eighth Amendment.
"I was aware that the referendum was happening. I had no idea how powerful it would feel to be there.  I was there [in Ireland] by accident. I was there at a literary festival, playing a show at the National Theatre.
"It was all incredibly unplanned. And the luckiest thing was, I was befriended by a fantastic bunch of Irish journalists. including Róisín Ingle."
"I was just so stunned by the passion and bravery of these women telling their story and I took that home with me.
"I looked at the deep irony of Ireland marching bravely into the feminist future while America seems to be backsliding rapidly."
"I wrote that song about a week later."
Amanda had bookmarked her album for songs about a couple of topics that she says that she was really dreading but her Irish experience was the catalyst to giving her a way into these topics.
"I knew I wanted to write a song about abortion. I knew I wanted to write a song about having a miscarriage.
"I found those topics so impossible to approach as a writer. I just did not know how to do them justice.
"But something about talking to Róisín and all of her friends unlocked the key to that song."
After the death of David Bowie in 2016, Amanda along with musical collaborator Jherek Bischoff recorded 'Strung Out in Heaven: A Bowie String Quartet Tribute' which was financed by 7,000 of her supporters at www.patreon.com.
Her Patreon funding model now with 15,000 supporters (and growing) has financed her recording and tours, allowing Amanda to work independently of record companies.
After the passing of Dolores O'Riordan, Amanda once again worked with composer Jherek Bischoff. The 'Quartet for Dolores' featured interpretations of 'No Need to Argue' and 'Zombie'. 100 per cent of the proceeds from the EP went to Chernobyl Children International, a charity close to Dolores' heart.
Amanda was in New Orleans for a video shoot and a show when she got the sad news that the voice of The Cranberries had died in London.
"I was incredibly sad and I called Jerek.
"I said 'let's do something real fast and turn a lot of pain into art'.
It was more of a gesture than commercial undertaking.
"I remember Dolores and The Cranberries from when they exploded in the 1990s. I remember hearing 'Zombie' and the beauty of the lyrics and the power of the pain in her voice.
"I even ripped off that chord progression for a song." laughs
Her interpretation of 'No Need to Argue' is a plaintive and beautiful piece. Amanda found a new pace and presence in the song.
"I try to take the emotional backbone of the song, the basic emotional architecture of what is underneath there." Once you get everything pared down to the basic chords and the basic core, you hear things that you never heard in the original.
"I love doing covers for that reason."
Amanda may even revisit these songs for her show in Limerick.
Her social media presence is an important part of her music promotion. The relentless hamster wheel of keeping the public updated on all platforms can steal away valuable time for creativity. Amanda literally wrote the guide book on how to use crowdfunding to pursue her art. She admits that, for all artists, getting the balance right and dealing with occasional online abuse is an extra challenge.
"The only thing that everyone is agreed upon is its really difficult."
"The entire infrastructure of how we share and make music has been completely rearranged overnight."
"As someone who has been juggling artistic creation and social media and PR and all of the community driven work that I do – plus the recent addition of a marriage and a child – all I can do is say 'good fucking luck'." laughs.
"But I am also an optimist.
"I like to believe that really good soulful important art will float to the top."
"I defended her, I defended me. And I reminded my community that the most beautiful thing about art is that it can transcend differences of opinion."
When she released her tribute to Dolores O'Riordan in January 2018, some of Amanda's social media following questioned why she chose to honour the memory of the Limerick woman.
"When I put that song out, I got a little bit of grief because Dolores was anti-abortion."
"I defended her, I defended me. And I reminded my community that the most beautiful thing about art is that it can transcend differences of opinion."
"It made covering her material more powerful because it felt like I was reaching over the divide.
"Even though she was gone, and we might have had different political opinions,  we could reach into the void and offer a hand.
"And that is such an important message because today everything has become so binary."
Amanda Palmer plays University Concert Hall on Sunday October 27.
Booking at www.uch.ie