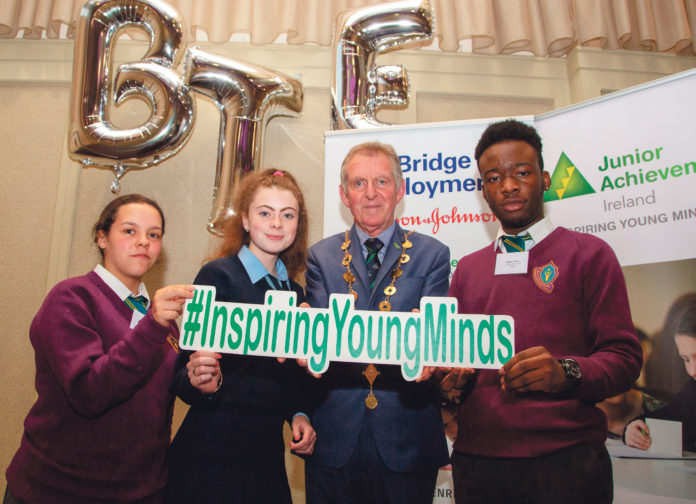 A COLLABORATION between a leading medical device manufacturer and two local secondary schools has resulted in an exciting initiative that will encourage young people to take up career opportunities in the healthcare industry.
Castletroy-based Johnson & Johnson Vision has joined forces with Ardscoil Mhuire, Corbally and Thomond Community College, Moylish Park to launch a 'Bridge to Employment'  (BTE) programme. Operated in collaboration with Junior Achievement Ireland (JAI), it will serve 50 transition year students through to the completion of their Leaving Certificate.
The programme, funded by Johnson & Johnson, is part of the company's global BTE initiative which aims to encourage young people to pursue higher education and challenging careers in the healthcare industry.
The programme aims to engage students in their last three years of secondary school who demonstrate academic potential but may face barriers to career progression.
Students will be given the opportunity to participate in a range of activities such as work experience placements at Johnson & Johnson Vision, visiting third level campuses, attending workshops, receiving career advice from J&J mentors and also participating in the JAI 'Career Success' programme.
Ardscoil Mhuire Principal Brid Herbert said they were delighted to be involved in the project.
"This three-year mentoring programme will support our students in achieving academic success and in their preparation for higher education, training, and employment. It will present 25 of our students with unique and invaluable real-world experiences, allow them to explore potential careers, prepare for college/work and discover how learning is relevant to their future," she said.
Johnson & Johnson Vision Plant Manager John Lynch said that the programme has been running successfully for more than 20 years.
"Given our commitment to supporting our local community here in Limerick, I'm delighted that we are working with Junior Achievement Ireland in supporting senior cycle students from Ardscoil Mhuire and Thomond Community College to pursue challenging science, technology, engineering and math (STEM) related careers."
Junior Achievement Ireland, Mid-West Area Manager Teresa Leahy said: "Research shows that working with 'real-world' volunteers helps young people to see the relevance of their academic studies to their everyday lives.
"This is a vital factor in persuading them to stay in school, take full advantage of their education and maximise their potential. The Bridge to Employment programme will help students develop into enterprising individuals who have the skills, knowledge and attitudes needed to achieve the