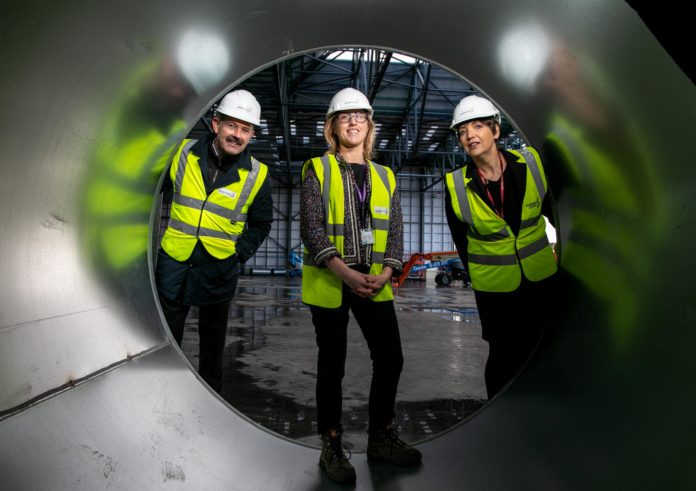 CONSTRUCTION is well underway on a new €18 million specialist aircraft painting hangar at Shannon Airport that will be capable of accommodating some of the world's largest aircraft.
Over 150 jobs have been created during the 14-month construction phase and the 92,000 sq ft building is on target to be completed by the end of the year.
The wide-body hangar is Shannon Group's largest construction project to-date and is the first aircraft hangar to be developed in Ireland in almost 20 years. It will be leased to International Aerospace Coating (IAC), a leading global aircraft painting, interiors and graphics specialist.
The project involves the construction of a steel-framed wide-body aircraft paint hangar and internal ancillary office space, workshops, plant rooms and storage space within the airport perimeter.
It will be the only hangar in Ireland capable of accommodating multiple aircraft types up to and including, the world's largest passenger aircraft. More than 190 metres of new taxiway to facilitate aircraft movements is also being undertaken as part of the project.
Newly appointed Shannon Group chief executive Mary Considine said that Shannon has the largest hangar footprint of any Irish airport, with nine hangars.
"These are fully occupied and this project is being undertaken to meet demand for additional space and fulfil our role in growing and expanding Shannon's cluster of aviation businesses.
"The development of such a major project demonstrates our commitment in this respect. It is part of an overall €100 million investment programme which the Group will have delivered for the region by the end of this year."
The project is partially financed by a loan from the Ireland Strategic Investment Fund (ISIF) whose mandate is to support regional development and economic activity in Ireland on a commercial basis.
ISIF Head of Infrastructure and Credit Investments Donal Murphy said it was their second major investment in Shannon Airport, bringing total funding for enhancing its infrastructure to €26 million.
"This investment demonstrates our ongoing commitment to regional development in line with the new ISIF investment strategy, announced earlier this year," he added.
Stressing the significance of the project Ray O'Driscoll, Chief Operating Officer, Shannon Group said the project contributes to Shannon Group's strategy for developing its commercial property portfolio.
"By the end of 2020 Shannon Group will have delivered over 900,000 sq ft of new or refurbished commercial property solutions at Shannon Airport and Shannon Free Zone," he said.
The new hangar will feature LED lighting, maximum transparent panels in the roof for natural light, an air recirculation system for the extraction system and a heat recovery system for exhaust air.
SO, HOW BIG IS IT?

The new hangar will be capable of accommodating three narrow-body aircraft at the same time.

^ It's the same size as 30 tennis courts

^ It could accommodate 34,000 people

^ It could fit 860 average saloon family 
    cars

^ It could hold five Olympic-sized 
    swimming pools

^ It has Ireland's 'widest door'

^ 1,100 truckloads of concrete was used  
    in its construction