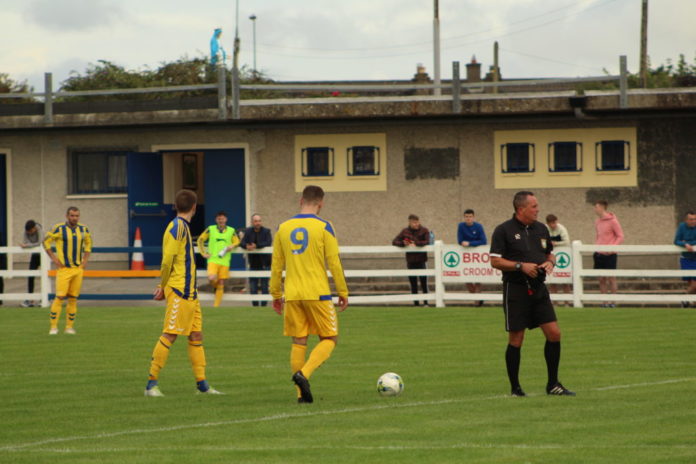 Fairview Rangers progressed to the fifth round of the Munster Junior Cup following a 3-1 victory over Premier Division rivals Ballynanty Rovers on Sunday afternoon.
In a game that was built as the clash of the heavyweights of the Limerick District League, it failed to live up to the hype in the early stages. It was clear that Fairview had planned to supply Robbie Kelleher directly in the hope that his physical strength would cause a much smaller Daragh Hughes problems.
While Kelleher did make a nuisance of himself, the home side struggled to create a clear cut chance although they were almost handed a goal as Stephen McNamara ran from his goal and sliced a clearance which Ronan Ryan had to clear from the goal line.
Ballynanty started with a 4-2-3-1 formation with Connor Ellis operating as a number 10 off the striker Kieran Hanlon. Fairview had a similar formation with Ross Mann and James Fitzgerald starting on either wing beside central striker Kelleher.
However, Fairview's midfield three of Jeffrey Judge, Stephen Bradley and John Mullane did not venture far from their fellow midfielders in a congested area.
The first Fairview goal arrived out of the blue as James Fitzgerald picked up possession and supplied a pinpoint cross for the onrushing Judge to head home from close range despite the efforts of McNamara to keep it out.
In truth, it was a game where both sets of midfielders were bypassed for the majority. When either side did gain possession in that area, poor control or decision making resulted in either side handing possession back to the opposition.
Ballynanty's first chance arrived just five minutes before half time as Jason Hughes floated cross was dropped by Aaron Savage but Kenneth Meehan's shot was cleared by former Ballynanty defender Dermot Fitzgerald.
As everybody awaited the half time whistle, disaster struck for Ballynanty as a moment of madness resulted in the concession of a penalty.
Ross Mann retrieved possession on the right hand side of the penalty area and left-back Ronan Ryan indiscriminately went to ground and fouled the winger to concede a penalty which Clyde O'Connell converted to give the home side a 2-0 lead at the break.
In the opening stages of the second half, Donal Magee's side should have halved the deficit but Kevin Nolan's effort was blocked on the line once again by Fitzgerald, who was certainly fired up for the game against his former club.
In a desperate search for an equaliser, there was a lot of panic in Ballynanty's build up but once again, they spurned a massive chance to open their account for the day when Adrian Power crossed to the back post and Connor Ellis header was kept out by a combination of the post and Savage.
On the break Ross Mann was proving a handful and it was his run and pass which led to Jason Lipper's shot being saved by McNamara as Jason Purcell's side tried to put the game beyond 'Balla.
Just as it looked like the visitors had run out of ideas, Fairview surrendered possession and a quick ball to Kieran Hanlon, who had a disappointing outing, led to a desperate tackle from Jamie Enright and referee Robbie Broe wasted no time in awarding a penalty kick.
Ellis converted the penalty and Magee opted to play a 3-5-2 with the introduction of Michael Guerin in place of Ronan Ryan, in search for an equaliser.
However, another moment of madness cost Ballynanty as James Fitzgerald weaved his way past three tackles to drive into the box, only to be upended by Kenneth Meehan to win another penalty which O'Connell duly converted.
It proved to be the last action of note as the Fairgreen outfit advanced to the next round. Jason Purcell will be hoping the victory will give his side a psychological edge in the race for the league title.
Fairview Rangers: Aaron Savage, Jamie Enright, Mark Slattery, Dermot Fitzgerald, Clyde O'Connell, Jeffrey Judge, John Mullane, Stephen Bradley(Adam Frahill), James Fitzgerald (Paul Danaher), Ross Mann (Eddie Byrnes), Robbie Kelleher (Jason Lipper)
Ballynanty Rovers: Stephen McNamara, Shaun Kelly, Kenneth Meehan, Daragh Hughes, Ronan Ryan (Michael Guerin), Dave Donnan (Derek Daly) Jason Hughes, Connor Ellis, Adrian Power, Kevin Nolan, Kieran Hanlon
The post Fairview Progress in the Munster Junior Cup appeared first on Sporting Limerick.