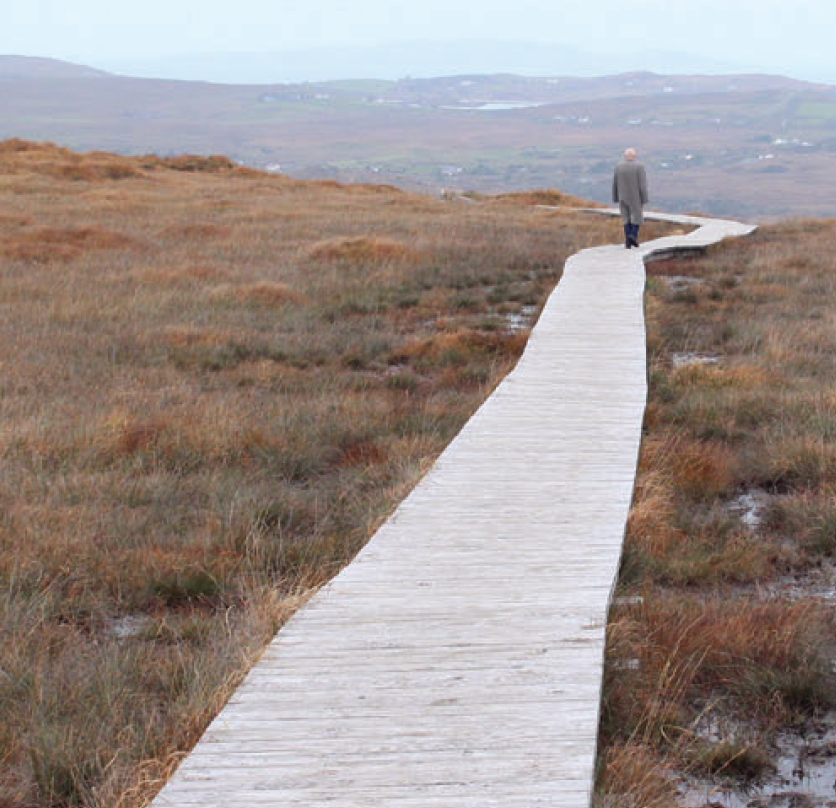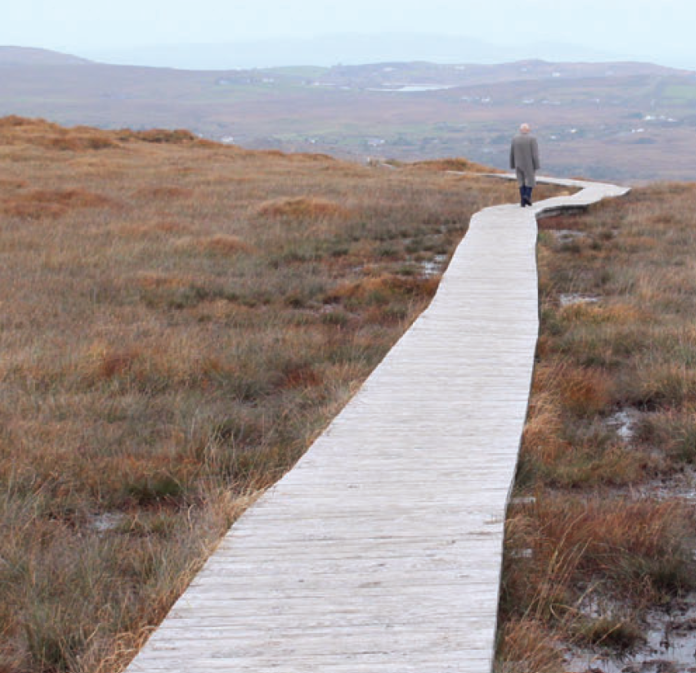 THREE generations of Mannix Flynn's family give witness on film – for the first time and with deep pain – of their experience of institutionalised violence and abuse. Their documentary 'Land Without God' has won mainstream release as well as warmth from critics and audiences.
It continues at ODEON Limerick and Tuesday November 5's 7pm screening is followed by a question-and-answer panel with the film makers, chaired by RTE's religious affairs correspondent, Limerick man Joe Little.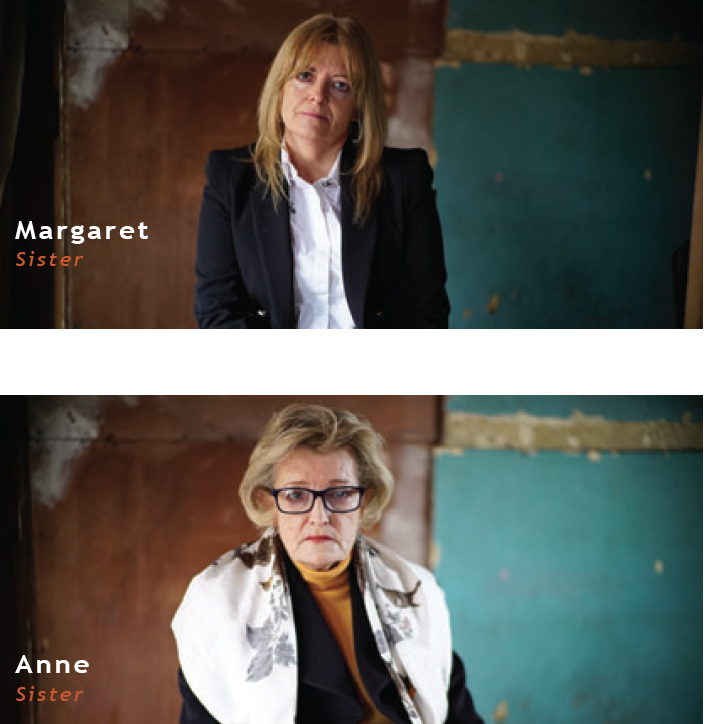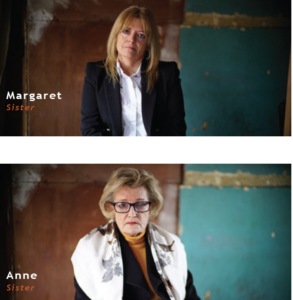 The film outlines numerous Flynns' individual experiences and fall-out experienced over decades. It is framed with cinematic and spoken poetry and quiet voices "drawn up from a deep well, a deep place." 1000s of hours original footage is distilled to 74minutes.
As a kid, writer and narrator (Gerard) Mannix Flynn was sent to Goldenbridge "with four or five" of his brothers and sisters. His hard-working, loving father and mother had become increasingly overwhelmed.  Fifteen children were born in all.
"It was the Church and women were not allowed contraception," Mannix reminds us. "They had no say."
His mother had a nervous breakdown after his eldest brother James died very young of pneumonia. Goldenbridge was episodic care-home while siblings were being born, an ordinary yet extraordinary residential intervention of the times.
Arts Page met with Mannix, co director/ producer Maedhbh McMahon of their company Farcry Productions. For this exercise, they worked with Finnish film maker/ cinematographer Lotta Petronella, much of the time in Finland together, and Dublin's Susan Bergin, longtime collaborators.
The young Mannix was incarcerated serially in Artane Boys' Home, Letterfrack, Daingean (CBS), Marlborough House, St Patrick's, Mountjoy Prison. He was even landed into the Central Mental Hospital, Dundrum, for certification – or not – whilst under age and entirely without support and that memory hurts him deeply. In making 'Land Without God' he met that psychiatrist who told him simply, "that's how things were done."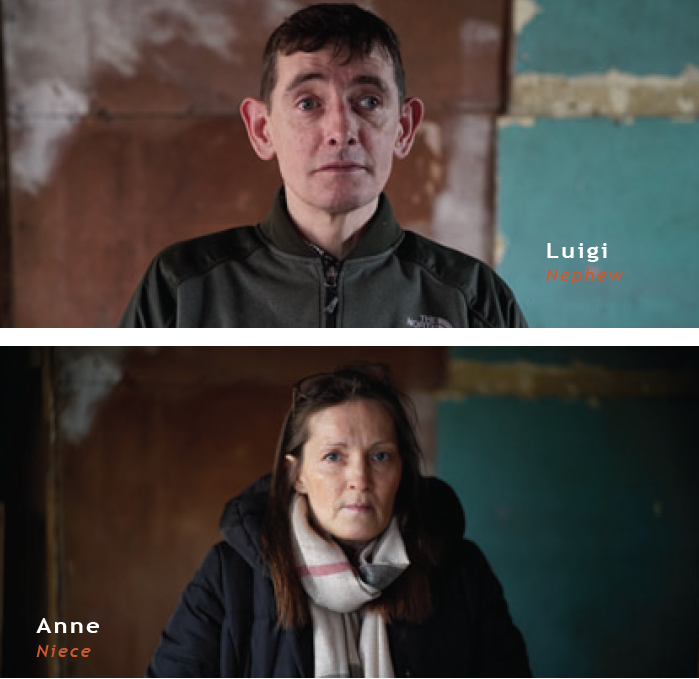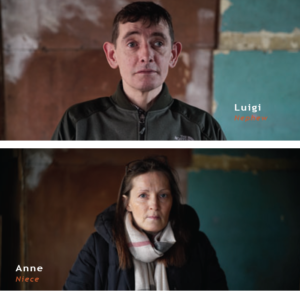 Ultimately he stabilised in a political/ artistic life that is productive and high profile. While personable and friendly, there a commanding sense of inquiry and leadership (Irish Water is on his mind as councillor). He is driven by activism for justice for the 100,000 men and women incarcerated by the State over decades in laundries such as Limerick's Good Shepherd and Glin Industrial School.
Life partner is Limerick woman Maedhbh McMahon who began working in jazzy films overseas, in wardrobe and research. Her work with Lotta Petronella is principal to this game-changing documentary. She makes the point that a strong technical team of women were employed.
What were the early movies? Unexpectedly, for an unassuming hand behind the camera and in editing suites, she hums out blockbusters: Harry Potter films, 'Troy', a Bond, 'Philomena' (researcher), 'Captain Corelli's Mandolin'. Ultimately her organic interests led Maedhbh to do an MA in Magdalene Laundries at St Martin's Central, London.
Visual art shows followed, crafting a gift for costume/ textiles with political concepts, finding prestigious platforms and along the way, Mannix.
Film festivals and national commentators have praised 'Land Without God' to the skies although it their first documentary. What went right?
She thinks. "First of all we had the main ingredient which are the witnesses, the Flynn family, I think 11 in all, in the actual final cut. There were so many aspects to it and it was so complicated that we could only show this very nuclear, centred part.
"Mannix always kept it to the political, never allowed it to go into sentimental. It also has humour and amazing strength."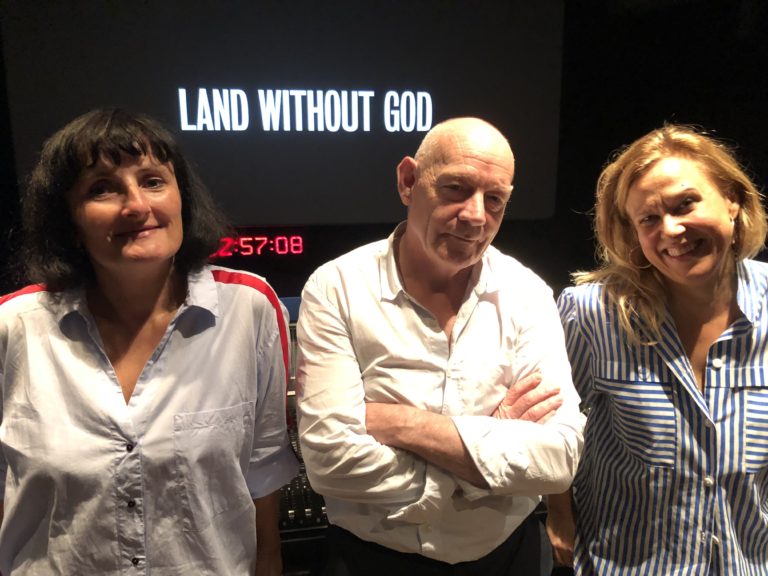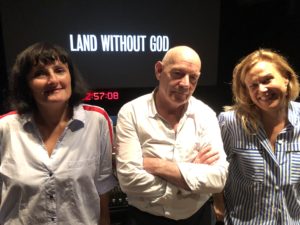 "The structure is basically a classical structure," Mannix states. "'Land Without God' starts very early in the morning, starts at dawn and runs through to dusk. I narrate throughout. the whole concept of it and the audience come to a journey, comes into the landscape and on a trip and into the family.
"The family [members] operate as an individual story, as an individual script, and together as a chorus as in classical Greek literature.
"You are constantly moving from one aspect to the next. You are moving from a city to rural Ireland, from village to bogland, from bogland to quiet moments.
"There is no old footage, no look back in anger. You are constantly moving towards resolution and the resolution comes at the very end – 75 minutes to span three generations of one family and 150 years incarceration. And you also have to tell a truth and that truth comes at the end."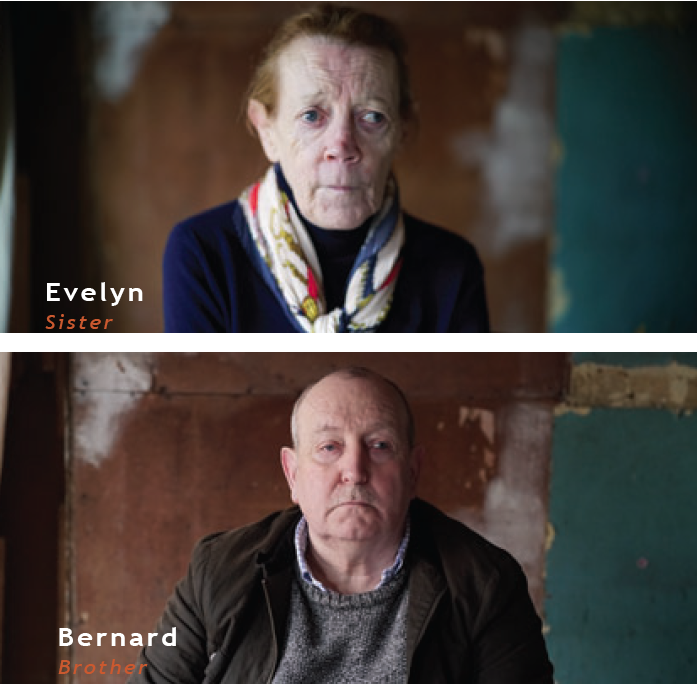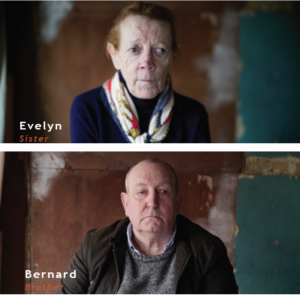 "Everything is meticulously put in to place by myself, by Maedhbh, by Lotta. There isn't a word out of place."
She makes the point that a book in the offing will allow for the "reams and reams [camera work, research, interviews, mood boards] and volumes of words and poetry that did not fit."
Mannix describes existing archive material as "escapism", the ridiculous promotional material shot by the Religious orders and existing filmed journalistic work.
"The past and footage of the past" had no bearing on 'Land Without God'. This is not about the Church, it is not about abuse, it is about witnesses… I love my family. It was really important to tell that story as our family represented so  many others."
Interestingly, his own Catholic faith is strong to this day; nothing has tarnished.
Maedhbh McMahon makes the point that they each had careers in working in art and theatre and film to support the drive to a completely new concept. They feel this documentary is poles apart from previous works such as 'States of Fear' with their heavy overlay of Church iconography and bells tolling. Neither is it a pursuit of vengeance, more an exposition of the heart, soul and scarred legacy issues.
Of the completed work, ten years in the making, a consuming passion play, she says simply, "It is beautiful, like a painting."
Mannix was writer. "We had to develop a new articulation to make this work and in order to make that articulation, certain language was not used, was banned and that made it really difficult…"
More then 60 people were interviewed, from prison warders to medical staff to institutionalised lives. "The story that was coming from the professional classes, respectful as it was, was a narrative we didn't need to hear anymore. They all spoke exactly the same way with exactly the same tempo and same approach."
"But once we realised the interviews with the family were so intense,  are so potent, full of the essence of truth and profound dignity and integrity and dreadful hurt that really didn't spill out, didn't get hysterical, then we realised that we were gifted with this."
Today, "the telling of the tale this way, that my family are really, really proud of it, that is the moment. That is miraculous."
An edited version of this interview by Rose Rushe will publish in Limerick Post, Thursday November 7.