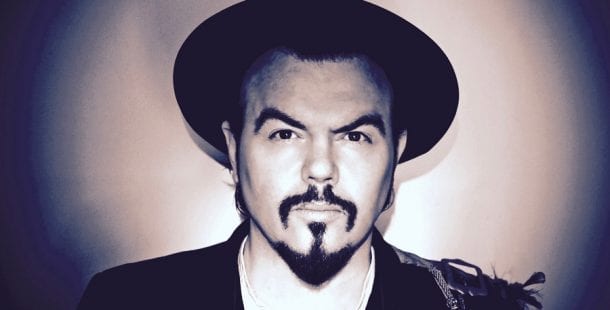 JACK Lukeman's solo debut album picked up wonderful reviews on its 1999 release.
"One of the great voices of our times," said CD Now and The Boston Globe called it a "lush, evocative debut."
"It's a music lovers paradise but it's a music makers hell!"
Songs from that LP have remained in Lukeman's live set since, 'Georgie Boy', 'Ode To Ed Wood', 'When The Moon Is High'. Even the quirky 'I Wish I Was A Dog' still racks up the royalties from radio plays – across Asia, curiously.
While Jack is preparing his next album of new material, his 'Metropolis Blue' 20th Anniversary Tour has given him a chance to revisit the 1999 LP.
For an artist consistently praised for his voice, the last 20 years of time and tour milage and experience add their colours to the vocal palette and made his 40 year-old vocals even richer.
It can be argued that Jack L's voice is a deeper instrument than when the album first came out.
"I think I sing them better now. Your voice is continuously evolving.
"If you listen to Sinatra, the young Sinatra had that higher register. You gain in the lower register. You sound like all the years you have been around.
"You have more control of your instrument. You know better how to play your instrument."
A return to his 20 year-old album brings an opportunity to reminisce about his days touring in the late 1990s.
His first memory of performing in Limerick is playing in a nightclub where the stage would drop from the ceiling on chains onto the middle of the dance floor (The George Hotel).
"If you rocked out too much the whole thing would start to sway like a boat. There was a drawbridge to get onstage." Laughs.
"Back then the live music scene was dead, all tribute cover bands and raves. We were playing in nightclubs a lot."
As Jack's 'Metropolis Blue' album started to pick up fans in the 90s, a new venue in Limerick began to concentrate on live music.
"Dolan's was a massive beacon of light – it was great to have a venue that was dedicated towards live music."
Jack L's back catalogue and legions of fans all over Ireland and the UK ensure that he can book long tours that run for months at a time; that is when he's not busy on the road with The Jools Holland Rhythm and Blues Orchestra.
The new realities of promotion as an independent artist and selling your recordings don't sit well with the man from Athy. Social media has just increased his workload.
"With social media, there is just more to do! It is a daily occurrence – I wouldn't be a blogger."
But has the Internet made it easier for new bands to create their platform?
"In many respects the record companies still run the whole thing. If it is Spotify or iTunes, it is all the bigger record companies pushing the buttons still. It funnels down more so because they lost all their profits from selling CDs."
Does Jack use Spotify?
"I can just about bear having iTunes." Laughs
"Spotify does my head in because they basically stole everybody's music!"
"Frankly it's ridiculous that people have gone with it."
"Not only has music been devalued, bands who come about and are the latest greatest thing don't even have enough time to acquire an audience because everyone is onto the next thing."
"It's a music lovers paradise but it's a music makers hell!"
Celebrating his album 'Metropolis Blue', Jack L plays University Concert Hall this Saturday November 9.