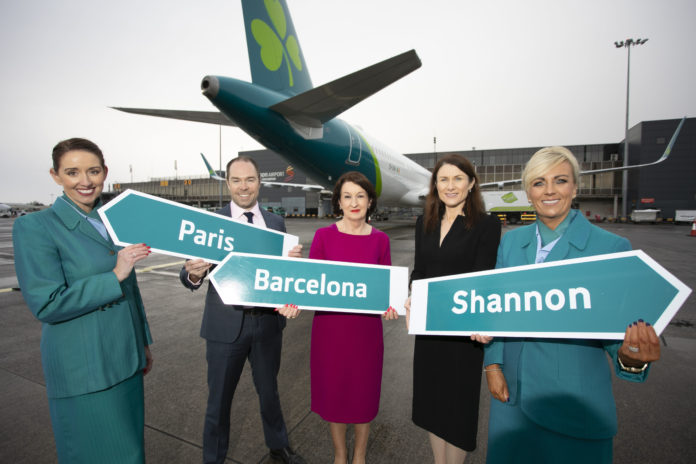 SHANNON has secured two new European routes, one of them being a vital hub connection, it was announced this week.
Shannon Group chief executive Mary Considine welcomed the announcement by Aer Lingus of two new routes from Shannon to Paris and Barcelona, highlighting the benefits of the connections for the region.
"Paris Charles de Gaulle is one of the world's busiest hub airports while Barcelona is one of Europe's most visited cities and will prove a very attractive addition to the Shannon schedule for next year creating new opportunities for cruising, city breaks, sun holidays and for inbound Spanish tourists," she said.
The new services to Paris will start on March 29, while Barcelona will take off on May 2 and will operate initially for the summer season on a four flights per-week and three flights per-week basis respectively until October 31.
Ms Considine said that the additional services are a timely boost for Shannon and the region.
"The launch of these two new routes and the investment in two new A321LR aircraft at Shannon is evidence of the strong partnership we have with Aer Lingus. This development is a major advancement in our promise to connect our airport and the West of Ireland to a growing number of global destinations, helping us to make this region a thriving, connected place."
Aer Lingus said the "route expansion underlines Aer Lingus' commitment to Shannon. Aer Lingus is the largest airline operating at Shannon Airport in Summer 2020 in terms of frequency of services offered. The new routes will see the overall capacity from Shannon for summer, which refers to the number of seats the airline operates out of the airport, increase by 19 per cent," Ms Considine explained.
Aer Lingus Chief Strategy and Planning Officer Reid Moody said they were delighted to show their continued commitment to the Shannon region by announcing two exciting new routes from the airport for next summer.
"The addition of both Paris and Barcelona to our schedule will bring Aer Lingus' network in Shannon up to nine routes for 2020.
"These new routes offer new business and leisure opportunities for Shannon, as well as providing fantastic inbound tourism opportunities for the region for visitors from both cities. This announcement illustrates our ambition for Shannon in the coming years," he said.
Dr Loïc Guyon, Honorary Consul of France in Limerick described the new service to Paris as excellent news for Shannon Airport and for the Midwest region.
"It is also a significant step towards making Shannon Airport the European hub that the region needs.
"This will generate new opportunities for businesses and for the tourism industry in the region. Let us hope that Aer Lingus will 'convert the try' in the near future and offer an all year connection to Paris," he added.