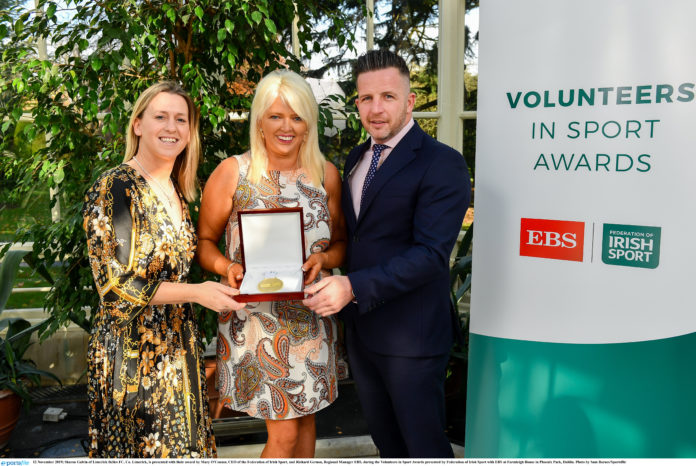 Limerick's Sharon Galvin was honoured at the 'Volunteers in Sport Awards', hosted by the Federation of Irish Sport in partnership with EBS.
Sharon received the Limerick sports volunteer of the year award for her commitment to soccer. The award was presented by Minister of State for Tourism and Sport, Brendan Griffin TD.
Sign up for the weekly Limerick Post newsletter
Sharon received the award due to the amount of hours she has volunteered for Limerick Belles FC.
The Volunteers in Sport Awards were created to recognise the contributions, commitment and dedication of the 450,000 volunteers who give time to sport across Ireland.
Speaking at the awards, Mary O'Connor, CEO of the Federation of Irish Sport, said: "Sport matters. It contributes to our health, binds us together as a community and supports the economy, while bringing a sense of pride to us all.
"This would not be possible without the volunteers who share their time and expertise on pitches, tracks, gym floors and swimming pools across the country each and every week.  To this end, the Volunteers in Sport Awards is an opportunity to recognise and celebrate these volunteers," she said.
For more information, visit www.volunteersinsport.ie.