IT WAS two years ago when the University Concert Hall team and Robert C Kelly got together to first poach Johnny Ward for Christmas pantomime.
Bright lights and big city took Johnny elsewhere. "Other things got in the way. I've done plenty of pantomimes with The Gaiety before and then in 2018, 'Dancing With the Stars' was coming up." At which he excelled, winning all but top marks for dance moves with choreographer Emily Barker, losing in the final by one point only.
Bear in mind that a far more serious challenge loomed – the death of his loved father in the previous weeks.
Moving on, he has just finished a tour with 'Dancing With the Stars' playing to big houses such as INEC. He is modest about the tour de force that DWTS was for him: "It's all down to the person you are with. I had seen how Emily showed out with Rob Heffernan [Olympian] the previous year, who has two left feet [he does].
"DWTS is extremely challenging, extremely hard work. It is very technical." He accepts he may have won points on characterisation and a sense of rhythm. Stage training since childhood is a strong factor (he teaches in his own school) and Johnny has gone on to further success with 'Copperface Jacks', the musical.
Great news: this Paul Howard production will tour in 2020. On screen, the actor is in demand for respected dramas and film.
At a buzzy launch in The Savoy on November 5, master of ceremonies Lorcan Murray of RTÉ and the UCH board, welcomed him on board the intact team led by DWTS17 Dayl Cronin and crooner/ comedian Richie Hayes.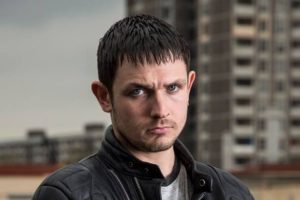 A good friend of panto stalwarts Myles Breen and Richie, Johnny Ward looks ahead.
"You know, I am 32 years of age and I have been blessed with all sorts of work, pantomimes, musicals and drama. I have worked with Oscar winning actors Sean Penn and Frances McDormand. I shot a pilot film in South Africa that cost €32mn and was produced by Ron Howard. The one thing that I have never done is play a villain in panto.
"I really don't do anything the same again," he reflects on the potential pitfall of being typecast. "To do something different really matters, I think it is especially important."
"Especially important" is what this upbeat, good-humoured man is to the UCH team and its sequinned Limerick Specsavers 'Aladdin', performances from December 16 into January 5.
Book while you can on www.uch.ie