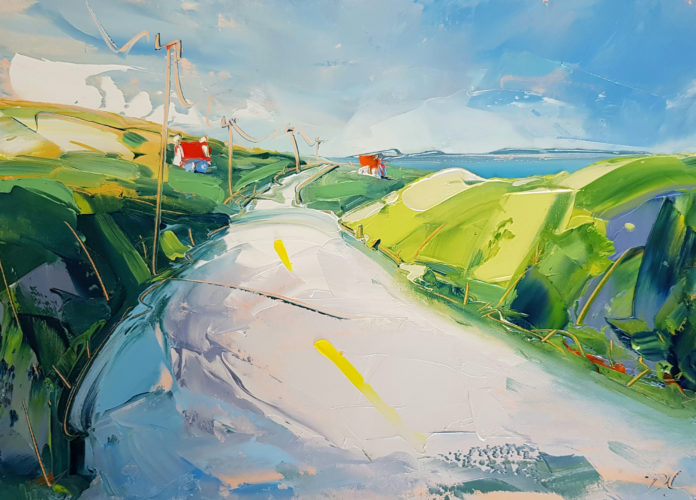 LIMERICK-based artists, David Coyne, whose work is influenced by his locality, will have his creations displayed at Art Source Cork at Cork City Hall from November 29 to December 1.
Coyne, who lives in Castletroy, is a self-taught painter who works with oils as his chosen medium and is often inspired by his surroundings.
Sign up for the weekly Limerick Post newsletter
"Limerick is the place which afforded me the opportunity to become a full-time painter over 10 years ago, and where all my work has been produced," said David.
"I'm lucky, Limerick has fantastic countryside which I take full advantage of. The work has a very Irish feel. I spend a lot of time in wide, open spaces so I try to reflect that.
"Whether that be a swim in the sea, a walk on a beach or a cycle along a country road, the memories of those experiences shape my compositions and the colour I use."
The Limerick-based artist creates his work by using a palette knife: "I like to compliment my palette choice with a deliberate and fluid application of paint with the knife in an attempt to capture the viewer's eye.
"My work is impressionist in nature. I strive to avoid being too literal, and I like when the viewer is involved in understanding a particular painting.
"Every palette knife mark is suggestive, and it is left to the viewer's eye to make sense of the overall composition.
Art Source, Ireland's largest art fair, is branching out to Cork for the first time, and will feature 20 of Ireland's top artists and galleries showcasing affordable painting, sculpture, photography and ceramics.
Art Source Cork is running alongside the Gifted Craft and Design Fair and will feature the best of contemporary Irish artists.
Gifted Craft and Design Fair Cork is the ultimate destination for anyone interested in craft, design, unique independent brands and artisan food producers.
The fair also features The Spectacular Christmas Food Emporium with over 25 local artisan food producers, tempting visitors with the best of the season's fare.
Art Source Cork and Gifted Craft and Design Fair Cork take place at the City Hall Cork from November 29 to December 1. Full details can be found online at giftedcork.ie.