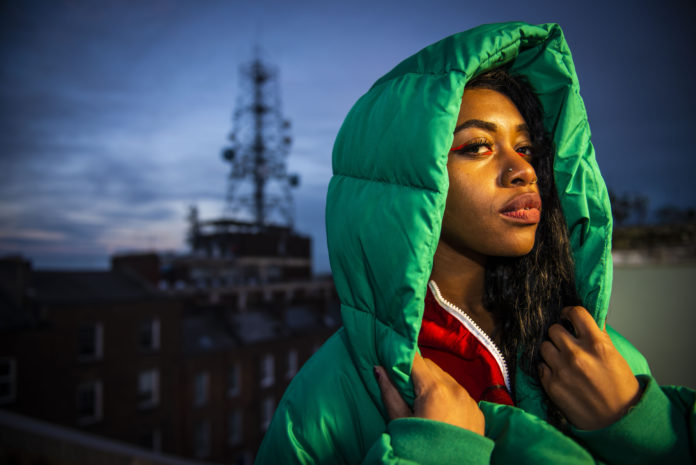 LIMERICK rapper, sing, poet Denise Chaila will join Dublin's Sim Simma Soundsystem and God Knows of Rusangano Family at this year's Other Voices festival later this month.
Denise recorded with Rusangano Family on their second LP and toured with the Clare/ Limerick collective.
Her debut EP last January 'Duel Citizenship', with its stirring spoken word piece on identity and heritage, brought her artistic talents into clear focus. That was followed by her collaboration with Sim Simma Collective on the empowerment stomper 'Man Like Me'. For many Denise Chaila has been top of those "one to watch" lists since then.
Chatting to Limerick Post about upcoming gigs, Denise confirmed that there is new material recorded and ready to be released in early 2020 and a Limerick show is planned for the same time.
Her show at Other Voices will feature the majority of this new material.
"I'm terrified to be honest with you but in the best way. It is not very easy to bring new music to a crowd."
Sim Simma Soundsystem is a dance collective based in Dublin.
"It is made up of several DJs and producers. We are all involved in our own artistic pursuits outside of Sim Simma, we all have our mutual love of dancehall and we all connected to each other."
Dublin DJ crew Sim Simma Soundsystem released a collaborative EP on their own label in early 2019 featuring Denise and God Knows. 'Pass the Aux Cord' was a critics' favourite with Carribbean beats backing God Knows on the title track.
'Man Like Me' was produced by Semi-D with Denise Chaila dropping rhymes on self- confidence and standing up for yourself.
Over an infectious samba stomp, Denise calls out misogyny ….
"They'll never tear another girl down in here
If they don't put some respect on your name
You have the right to go mad in here."
The track was inspired by the hip hop Denise grew up with and she used some of its aggressive language to make a female empowerment anthem.
"I listened to a lot of hip hop. I have all this slang and language that men use all the time when talking to other men.
"I got really interested in it and got really tired of it at the same time."
'Man Like Me' uses this male bravado language and turns it on its head.
"Can I use this language, this male aggressiveness language, to pay homage to the fact that I have to do so much work to make it neutral so that I can be a part of this?"
In Limerick's rapidly growing hip hop scene it is almost all male voices, with a few notable exceptions. But that is not to say it is an exclusively male club. Denise always felt a part of this scene – doing it her way and on her own terms.
"Hanging out with Murli, God Knows, the lads from Same-D and all the guys from PX music, these guys were really encouraging. I grew to be like one of the guys when I am around with them without sacrificing my womanhood but actually highlighting it."
'Man Like Me' was written in 2017 and has given Denise confidence in her abilities.
"It came out this year and I have just been smiling! That particular song kept me going and kept me writing all the way to finish up my own side project.
"It's been a long and really fun process in getting to know how I want to express myself and what I would like to say."
Most of her work is produced by Rusangano's Murili.
"He is an incredible producer. He is like my brother."
"He knows me better that anybody so making music together is a beautiful collaboration."
Denise says that the album was fun to make, with a lot of more personal material that reaches beyond the parameters of 'Man Like Me' and 'Duel Citizenship'.
Denise was born in Chikankata, Zambia, is now based in Limerick and her track 'Duel Citizenship' shows her passion for social change and changes in attitudes toward anyone perceived as other, as outsider.
Is the Ireland of today a more forgiving and understanding place?
"I find it really interesting that we live in an Ireland that is still dealing with the ramifications of what it means to uphold a system like Direct Provision and until systems like that are resolved, there is no getting over anything."
"People are people worldwide. every country has an issue with race.
"Every country in the world has something to think about."
"It's something that I am really hopeful about – it is something that I am finally ready to talk about."
"Until you show people where their blind spots are, you are not able to tackle the problem."
Sim Simma Soundsystem with Denise Chailia and God Knows will play in McCarthy's Bar in Dingle for Other Voices Music Festival on Saturday November 30.
New releases and a Limerick gig on the way in early 2020.