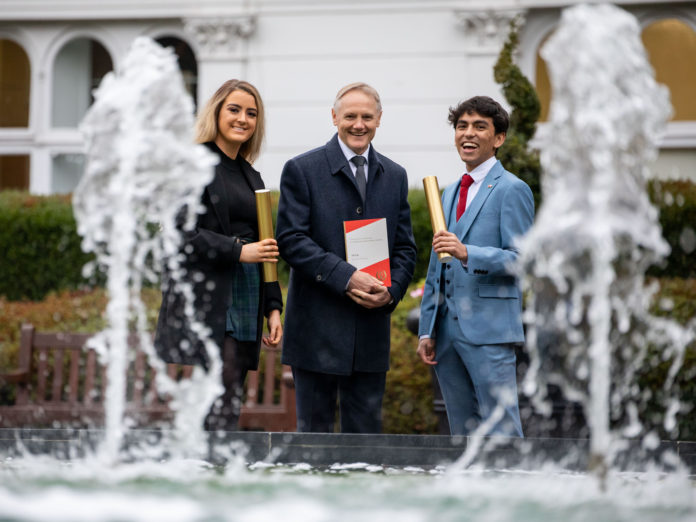 OUTGOING Ireland rugby head coach Joe Schmidt answered the call to help inspire the next generation achieve their career goals at the JP McManus All-Ireland Scholarships Awards last Saturday,
The serene setting of the University of Limerick's riverside campus was the perfect location for the former English teacher, turned international rugby coach, to encourage a new team of aspiring winners to realise their potential.
Sign up for the weekly Limerick Post newsletter
Schmidt, who became an Irish citizen four years ago, told the 125 scholarship recipients at UL that "education is a hugely important part of every young person's development in life".
"It's fantastic to be able to be here today to recognise first-hand the outstanding achievements of each and every student present. I encourage them all to keep working hard and to make the most of their opportunities," he added.
Each recipient receives full academic financial support for the duration of their third level studies.
Schmidt joined an illustrious list of guest speakers such as Irish Presidents Michael D. Higgins and Mary McAleese; US President Bill Clinton; as well as other great sporting heroes, including jockey AP McCoy, rugby icon Paul O'Connell, Limerick hurling manager John Kiely and Irish soccer legend Martin O'Neill.
The 125 recipients were selected from a minimum of two highest-achieving students from each of the 32 counties, including seven winning scholars scoring the maximum 625 Leaving Cert points.
The most popular area of study among the scholarship recipients is medicine, closely followed by engineering and science.
Ten years ago Kieran Dalton was a recipient of an All Ireland Scholarship.
Since then, he has qualified as a pharmacist and was involved in making interventions to optimise medication regimens and ensure patient safety in hospitals.
Having recently also completed a Doctor of Philosophy (PhD), he has been working full time as a lecturer in clinical practice in the UCC School of Pharmacy and is working on a number of collaborative projects in clinical research.
Established in 2008 and sponsored by JP McManus, the third level educational scholarship is awarded to a minimum of two highest-achieving students from each of the 32 counties. They must meet a further set of criteria, including attending a non-fee-paying school and being exempt from the Leaving Certificate fee.
This year, seven All Ireland Scholarship recipients scored the maximum 625 Leaving Cert points.
Each scholarship is valued at €6,750 per annum in the Republic or £5,500 in the Six Counties.
The programme is administered by the Department of Education and Skills and the Department for the Economy with support from the Department of Education, Northern Ireland.
To date, 1,496 students have been awarded an All Ireland Scholarship and 905 have graduated from university.