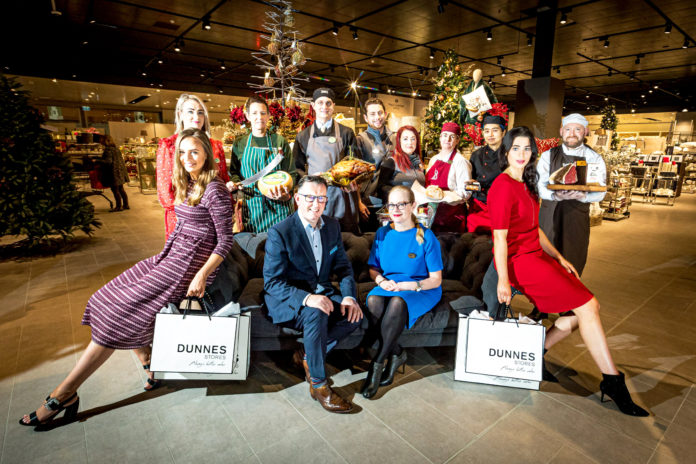 IN THE 1960s "The Jetland Ballroom" on Limerick's Ennis Road was the place to meet – one of Ireland's biggest ballrooms where top international acts such as Johnny Cash and Roy Orbison took to the stage, as well as homegrown talent like Brendan Bowyer and Limerick's own Shaun O'Dowd.
Now people have another reason to head to "The Jetland", with the unveiling of the all new Dunnes Stores Jetland, offering an exciting and innovative shopping experience in collaboration with some of the leading Irish names in food, fashion and homeware, all under one roof and all delivering on the Dunnes Stores promise of better value.
Sign up for the weekly Limerick Post newsletter
This new state-of-the-art store will mark its official opening from Friday to Sunday, December 6 to 8 with a weekend of festive fashion, food, lots of giveaways and fun for all the family.
Jetland Manager John Kennedy says that just like The Jetland Ballroom featured all of the top names from the era, Dunnes Stores Jetland will feature the very best names in fashion, food and homeware.
"It really will offer shoppers in Limerick something very special and trusted, while remaining true to our promise of better value, which has been instilled in all of us since Dunnes Stores was established in the 1940s."
"We wanted to organise a special weekend to say thank you to our customers and our hard-working team for their patience and support as we went through our 'makeover'. We couldn't have done it without them, and they are as proud of our beautiful new store as we are."
At the unveiling weekend there will be opportunities to meet some of Ireland's best fashion, beauty and home designers, including Paul Costelloe, whose father was from Limerick; Carolyn Donnelly; Brendan Courtney; Sonya Lennon; Leigh Tucker; Diarmuid Gavin; Derrick Carberry; and Limerick's own Celia Holman Lee, will be coordinating fashion shows throughout the weekend.
There will also be a wide range of activities in the new state-of-the-art Food Hall, where some of Ireland's leading food producers will be on hand to meet and greet and to invite shoppers to sample some of their signature and award-winning products.
Among them will be Ireland's favourite chef, Neven Maguire, who will be there to mark the arrival of his exclusive Cookware Collection with a very special Cookery Demo at 6pm on Friday, December 6.
This will be followed by another Cookery Demo on Sunday with Aileen Cox Blundell of Baby Led Feeding fame.
John added,"It's been a very special time for us and for Dunnes Stores as a whole. We are officially Ireland's number one Food Retailer, and recently we have been awarded Irish Retailer of the Year."
John and his team are also organising lots of kid-friendly activities and there will be lots and lots of giveaways throughout the weekend.
Visitors to Dunnes Stores Jetland will experience a world-class Food Hall, a unique collaboration focusing on provenance and quality with some of Ireland's leading Irish artisan producers, all under one roof.
These will include stand-alone shops from Sheridan's Cheesemongers, James Whelan Butchers, Alternative Bread Company and Nourish health food store.
There is a dedicated Fishmongers in store; an extensive wine offering; and Baby World, which will be a one stop shop for little ones. In the Shopping Centre Mall, an exciting addition will be a stand-alone Gardening Store which will feature the complete collection from Diarmuid Gavin's gardening range "Outer Spaces".
The Food Hall will also have one of Ireland's leading fresh food delicatessens Baxter and Greene Market Deli with cafe seating and freshly baked pizza as well as a Sushi Bar.
At the top of the escalators leading to the convenient underground free car park, there is a new Cafe Sol, and a second and larger Baxter & Greene Market Café within the re-development.
On the expansive Fashion and Home side of the store, there has also been a complete re-development, creating an inspirational space to showcase the vast array of fashion and home experiences for all shoppers, all pockets and all occasions.
There will also be another new concept in shopping for Dunnes Stores in the form of a dedicated Beauty Store, where shoppers can relax in the Nail Bar or Brow Bar, while shopping for their favourite beauty products.
For the festive season, Dunnes Stores Jetland will have extended opening hours. From Monday, 16th December, the store will be open from 8am to 12midnight, up until Sunday 22nd when the store then be open for 66 consecutive hours up until Christmas Eve closing at 6pm. The store will  re-open on Friday, December 27 from 8am to 10pm.