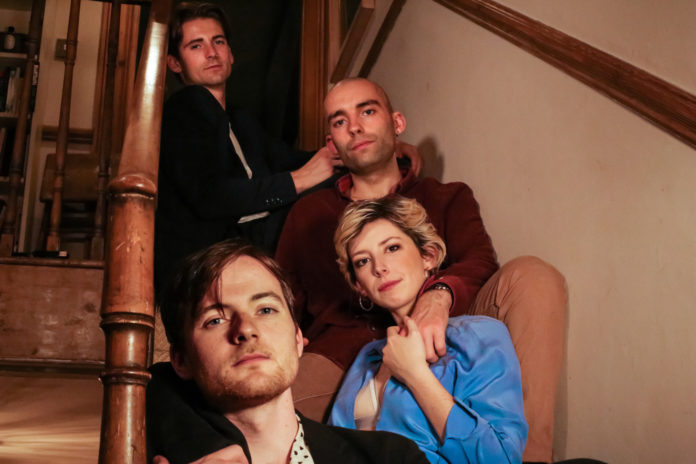 From the ashes of a much feted Dublin band Little Green Cars grew the little green shoots of a new project called Soda Blonde. Limerick Post spoke to lead singer Faye O'Rourke.

SODA Blonde features Faye O'Rourke, Adam O'Regan, Donagh Seaver O'Leary and Dylan Lynch – all former members of Little Green Cars.
Sign up for the weekly Limerick Post newsletter
Now recording on their own independent label Overbite Records, Soda Blonde has just released their debut EP called 'Terrible Hands'.
Videos for 'Terrible Hands' and debut single 'Swimming Through The Night' show a band with a sound that has evolved from the folk / rock of Little Green Cars to a more alt-pop approach, a touch of electronic music with Faye's vocals front and centre in the band.
Little Green Cars emerged in 2008 with strong demos 'The John Wayne' and 'My Love Took Me Down To The River To Silence Me'. Managed by founding member and guitarist with The Thrills, Daniel Ryan, the band's fortunes took an upward turn when they signed with Glassnote Records (USA) releasing two acclaimed albums 'Absolute Zero' (2013) and 'Ephemera' (2016).
The band featured in the BBC's Sound of 2013 list, toured the UK and US, played 'Late Night with Jimmy Fallon' and supported Hozier on a Stateside tour.
The albums made No.1 and No. 2 respectively in Ireland. The band announced their demise in March 2019.
Watching Little Green Cars play live, Faye O'Rourke's vocals were always something that stood out; it brought a hush and the audience would engage with her.
Soda Blonde presents Faye as lead vocalist and it is a vibrant prospect.
As Faye puts it …
"You can move to the music."
That might not have always been the case in the past.
The band releases music independently today on Overbite Records. And for any independent band based in Dublin, that is a tough proposition. The members have taken up jobs.
Faye talks about how in this part of their career, "everything matters," and they are determined to make the most of opportunities.
The band has engaged with the DIY mentality, producing and directing their own music and videos.
"There is a real satisfaction in producing these things.
"Adam (guitarist) has produced and recorded everything – with us in the room.
"The visual element and the production are a big part of the process. We are enjoying having that creative control.
"We are not doing it full time. It's a challenge to even meet up and rehearse – all the guys are working jobs.
"For me it is the only thing I ever wanted to do."
Soda Blonde handed over their debut single to Limerick musician/producer Michael Keating (of Bleeding Heart Pigeons). Its called 'Swimming Through The Night' (mickykiiatein remix). His dark funk remix gave the track a whole new vibe.
"He is one of the most talented people in the country really as an arranger, as a songwriter. We were delighted."
The band has a management deal with Manchester company Key Music Management and has raised the profile of their new project quickly with an appearance on 'The Late Late Show' singing their debut single.
The band's first headline show was a full house at Dublin's Grand Social. They have booked a second show in Dublin for this tour.
"Selling out that first gig meant everything!
"We didn't go in expecting that to happen. I can see people are appreciating the crossover."
Lyrically 'Terrible Hands' EP deals with failed relationships, transitional periods of self discovery and according to the band, it was "a joy to make," implying that there are currency and satisfaction in heartbreak.
The music of Soda Blond has emerged in a constant flow and their musical evolution has been an organic transition as opposed to a sudden turn on the road.
There was no grand masterplan in the demise of Little Green Cars and the creation of Soda Blonde.
The band did not release a third album and knew months before their announcement that they would disband, says Faye.
"It came to its natural end.
"It wasn't as simple as 'this is over – we are going to do this'.
"There was a period in-between where I didn't know what I was going to do!"
"My identity was so wrapped up in Little Green Cars and it came to an end.
"There was a period where I said I would go off do a solo thing
"I flew over to London, I was totally broke staying in a friend's house.
"I was knocking on doors of people that I knew, publicists, labels that I had met over the course of a number of years and I was kind of looking for advice."
"It was kinda harrowing really. That was a really, really difficult time. I ended up just coming back to Dublin.
"The guys then decided that they were going to continue on with me. There is nobody else I would rather make music with."
At Other Voices, Dingle the band will play Nelliefreds on Saturday 30 and Paul Greaney's Yard on Sunday 1.
Soda Blonde plays Dolan's this Friday November 29.