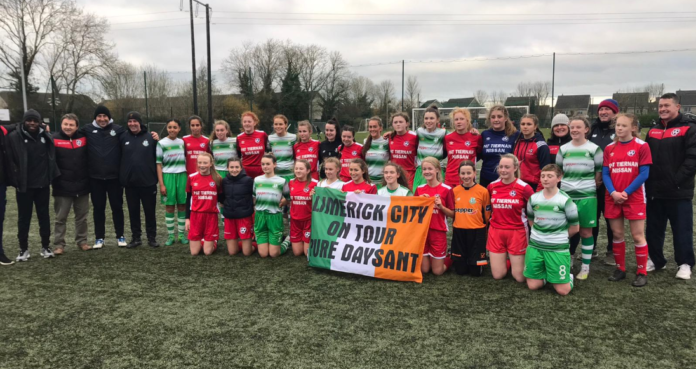 In a brilliant weekend of U-16 girls football the hosts won the Cup with a hard fought 1-0 victory over one of the most successful women's football clubs in the country, Peamount United, late on in extra time.
Aoifa Cronin scored with 2 minutes to go in extra time with a low shot to the keepers left. The weekend was full of some excellent football with some great performances from Westport FC, Wilton United, Peamount and Newport AFC.
Regional also took on Shamrock Rovers in an exhibition game on Saturday afternoon with the hosts being narrowly beaten 4-3 in an epic encounter which saw the Regional grounds in Dooradoyle near capacity.
Organisers of the event, Pat Keane, Fergal O'Neill and Declan McDermot were thrilled with the standard of football and are hopeful that this is something that can be run annually to keep Regional and Girls football in Limerick on the map.
The decision to introduce summer soccer in limerick has brought women's football backwards with some teams playing as little as 3 or 4 league games this year and the introduction of a league of Ireland for U-17 could prove to be another nail in the coffin for club football so an event like this was very important to remind everyone what local football is all about.
The organisers would like to thank all of the volunteers for helping make this event possible, the many people that turned up to the games, our sponsors; Russell's Select Bar, Pat Tiernan Nissan, Prestige Dog Grooming, Irish Cement and Centra Dooradoyle and most importantly, Peamount Utd, Westport FC, Wilton Utd, Newport AFC and Shamrock Rovers who travelled long distances in great numbers staying for the weekend to make the event happen.
Regional United Team: Marta Jara Casanova, Aoifa Cronin, Ria Stenson, Claire Bourke, Katlyn Hayes, Ciara OReardan, Laoise Browne, Emily OHalloran, Mary Deery, Aine Walsh, Jody Keane, Amy Mulqueen, Lucy Farraley, Chloe O'Neill and Ellen Costello.