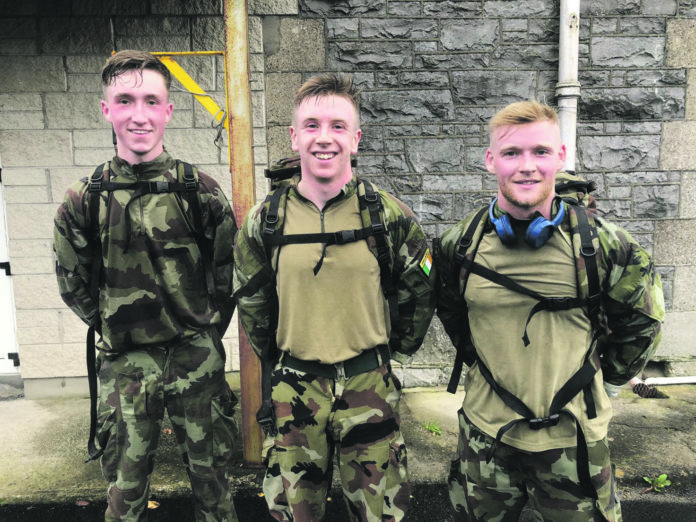 This is a beautiful story of Limerick for the Christmas:
A YOUNG soldier in the Irish Army based at Sarsfield Barracks rang Samaritans' national call line 116123 with a fundraising offer that is uniquely courageous. Private Thomas Magner, along with comrades Private Alex Smyth and Gavin Dillon, will undertake a 26km Alpine marathon in their army's full battle dress on January 11.
It was the Limerick and Tipperary branch of Samaritans' publicity director Joe Kenneally who picked up the call while on duty.
"We are delighted," Joe tells Limerick Post. "We have no State funding and are entirely a voluntary organisation. The soldiers are hoping to raise €3,000 for the branch here at No. 20 Barrington Street in Limerick. The service is open 8am to 2am, staffed by trained volunteers, even Christmas day. Loneliness and social isolation are big problems in our world today. "
Privates Thomas (19, a Cahir man), Alex (21, Borrisolee) and Gavin (24, Abbeyfeale) are committed to ironman athletic feats for mental health charities. The day of interview, each had just finished the Barrack's official fitness test – a 10km run in battle dress and carrying a 35lb day sack and big boots – and they each passed with flying colours.
Grinning, they say that this is the exact garb with which they will be doing this 26km climbing marathon in the Swiss Alps. In October, they finished the notorious 'Hell&Back' course in Wicklow's Kilruddery Estate, raising funds for Pieta House.
But Switzerland? Three years ago as a civilian, Gavin finished the Alpine Marathon 26km. "I had run a couple of marathons in the country and wanted something different in scale and territory and conditions. I found it online at runthealps.com and ran with four to five thousand others, all of them from other countries such as Scandinavia, Switzerland and Germany. I am sure we will be the only Irish there on January 11.
The challenge breaks the January blues and is a wonderful way to open up the year."
From Thomas we hear of the soldiers having been "in training since April and are preparing for the mountain heights – up to 2,653m – head on, in Delta's altitude chamber." Gavin nods, recalling the nose bleeds and disoriented feelings that set in as he neared the  highest of the peaks in the Swiss circuit.
Alex makes the point that together they flew into Zurich last July, "undertaking the toughest relay race in the world, the Red Bull 400m hill race that is a relay running up against a ski slope. We took bronze and made the podium for a medal."
To donate to the imminent Alpine Marathon,  click on the crowd-fund page
https://give.everydayhero.com/ie/swiss-alps-run-for-samaritans-ireland-1/wizard/share. You can pick up an official sponsor card at Limerick Post, 97 Henry Street, tel 061-432916 to sell lines (photo  ID required); at Samaritans, 20 Barrington Street and at Sarsfield Barracks, Lord Edward Street.