For the Love and Honour
HAVING staged 'Southside Story' in 2015 and their own 'Is She Dead Yet?' last year, Southill Community Drama Group returns to tread the boards with 'For the Love and Honour!'
Working together for the past few months, devising and brainstorming plots and storylines, the group got to  "reminisce about our school days, the adventures we got up to and the trouble we got into along the way."
From dramaturg Karen Fitzgibbon, we hear that "much fun has been had during this process.
"Both good and bad memories have resurfaced as we scripted this play full of twists and turns."
Supported by the Southill Family Resource Centre and Limerick and Clare Education and Training Board, 'For the Love and Honour!' takes place at Belltable, 8pm over two nights, on Friday December 6 and Saturday 7. Just €7.
Gift of 'Second Sight'
 THERE is going to be a gathering of writers and artists tonight Thursday December 5 at Pery Square's People's Museum of Limerick.
Join the energy led by Dominic Taylor of Limerick Writers' Centre for the launch of the anthology 'Second Sight' at 8pm within No.  2 on the Square.
The anthology will be launched by Liz Kelly, director of Mountains To The Sea book festival and a cultural producer with the Galway 2020 project.
'Second Sight' is edited by award winning poet Ron Carey: "You will find within these pages stories and poems that lift the spirits, gentleness, poetic insight, tragedy, joy, loneliness, humour, love of life or simply love itself.
"Here you will find the work of some of the best writers and poets who attended our classes for older people during 2019."
The cover of the anthology is illustrated by local artist Michael Collins.
Tide and Memories at The Hunt
THE HUNT Museum is host to an exhibition of paintings by Hughie O'Donoghue from this weekend, a formal launch taking place Friday 6 at 6.30pm. 'Time, Tide and the Memory of the House'  takes as subject matter abandoned homes situated in the landscape of Mayo.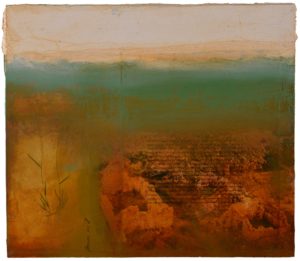 O'Donoghue looks at buildings as places of memory, using a semi abstract style combined with rich expressionist colours and texture.
Look forward to paintings on wood panels, made in the manner of notebook pages. These will feature drone photography of the buildings together with hand written notes, gleaned from the 1911 census, about the people who lived there.
'Time, Tide and the Memory of the House' will also have oil paintings developed from these panels.
Showing into January 26.