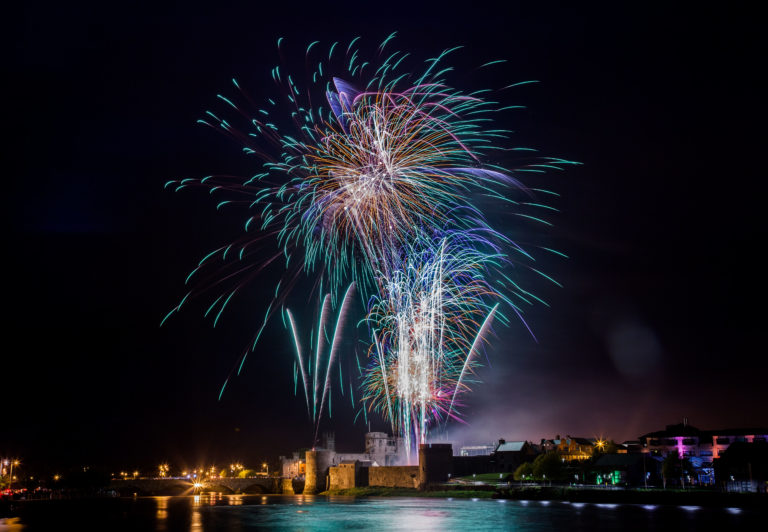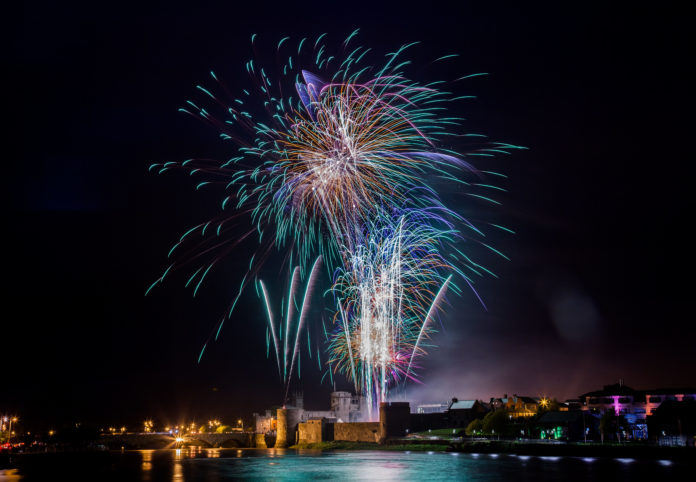 The New Year's Eve night sky will be a riot of colour this year as fireworks bring 2019 to a spectacular end in Limerick.
The fireworks display, association with King John's Castle, will be a fitting finale to the Christmas in Limerick celebrations, with the display beginning at the family-friendly time of 7pm on New Year's Eve, Tuesday, December 31.
The public are urged to bring along all the family to watch Limerick's night sky turn every colour of the rainbow for what will be a great way to start New Year's Eve celebrations. The best viewing points are Clancy's Strand and Sarsfield Bridge.
Sheila Deegan, Culture and Arts Officer with Limerick City and County Council said, "Limerick is celebrating the end of one decade and preparing for a new one with a dazzling display of colour and light over the majestic River Shannon. Families and friends are invited to come together along the banks of the River and enjoy the end of the festive season in style.
"And, while waiting for the arrival of New Year's Eve there is a host of things to do around Limerick over the Christmas to New Year period."
Some of the events happening are:
Limerick on Ice at Arthur's Quay is a firm family favourite, so you can get out and practice your skating. Experience the magic of ice skating at one of Limerick's most celebrated Christmas attractions! Whether you're a seasoned skater or a complete beginner, this is a great day out for all to enjoy.
Big Names After Dark – Limerick is the place to be over the Christmas period with a host of big names performing. The Rubberbandits, The 4 of Us, HamsandwicH and Mick Flannery are just some of the top name acts performing in Limerick between Christmas and New Year.
Sport – Family and friends will be able to gather at various sporting events over Christmas. The annual Christmas Racing Festival in Limerick Racecourse is the biggest of the year, while Munster v Leinster at Thomond Park is the stand out tie of the provincial rugby season.
Pantos – Limerick Panto Society's tale as old as time Beauty and The Beast Panto is this year's offering in the Lime Tree Theatre, while the Genie makes his presence felt in Aladdin at the Specsavers Limerick Panto at University Concert Hall.
In the Open Air – why not get out and about over the Christmas period. There are numerous fun runs/ walks/ cycles to burn off some of the calories. There's double the fun at the Parkrun on Christmas Day in UL and New Year's Day in UL and Mungret. For a longer walk why not check out the various walkways and trails around Limerick that are the perfect antidote to the overindulgence over Christmas.
Sales – Come into Limerick City Centre and shop till you drop. The traditional Christmas sales will be in full swing with bargains galore in all the stores.
To make Christmas in Limerick even more accessible, especially in the run up to the big day and also for the fireworks, hundreds of additional free car parking spaces are being provided with Park & Strides and Park & Rides available around the city up until Christmas Eve, while Cleeve's Park & Stride remains open until New Year's Eve.
Free Park & Stride (9am to 9pm)
Cleeve's Site, O'Callaghan Strand up to and including New Year's Eve
Limerick City and County Council Car Park, via Nicholas Street on 22 & 22 and 24 Dec
Irish Rail Depot, Roxboro Road open up to and including Christmas Eve
Park & Ride (9am to 9pm)
The Great National South Court Hotel, Raheen 21 & 22 Dec
University of Limerick 21 & 22 Dec
Motorists using the Park & Rides will then board regular Bus Éireann scheduled services 304 and 304A (from the Stables Complex at UL and opposite St Nessan's Church in Raheen) and Dublin Coach services 307 and 308 from the Stables Complex.
Parking in the city centre is available on-street and in multi-storey car parks.  Download the Limerick e-parking app, or pay by phone or disc.  On-street car parking is free after 5.30pm daily and is always free on Sundays.
In Abbeyfeale, Kilmallock and Newcastle West, shoppers will get an extra two hours free parking in each of the towns from 2.30pm daily until New Year's Eve inclusive.  This is in addition to the first hour free.
The Christmas in Limerick programme is being co-ordinated by Limerick City and County Council's Culture & Arts and Marketing & Communications Departments.
Christmas in Limerick is supported by Limerick Post, Limerick Chamber, Limerick Leader, Live 95 and Spin South West.
All details about what's on over the Christmas period in Limerick is available in the Christmas in Limerick 2019 event guide which is available online and throughout Limerick.
Keep up to date with all things Christmas in Limerick via:
Facebook: ChristmasInLimerick
Instagram: @ChristmasInLimerick
Twitter: @XmasLimerick
#ChristmasInLimerick