THE main suspect in the Garda investigation into the murder of Limerick pensioner Rose Hanrahan has been detained under a European arrest warrant.
Although Gardaí have released no details about the man's detention, it is believed that he was arrested by police in the UK and that the warrant is currently before the courts.
The suspect must be brought back to Ireland before he can be formally arrested and questioned about Ms Hanrahan's murder and it is understood that this could take a considerable amount of time.
The 78-year old was found by relatives tied up and strangled in her home on New Road, Thomondgate, on December 15, 2017.
Gardai are awaiting developments and hope to be able to arrest and question the suspect on Irish soil.
A Garda spokesman said they were aware that an individual has been arrested on a European Arrest Warrant but that no further information was available at this time.
Gardaí have been liaising with Europol and have taken over 1,300 witness statements as part of the Limerick murder probe.
The suspect is believed to have travelled to France immediately after Ms Hanrahan's murder before travelling on to Eastern Europe.
On December 16, Ms Hanrahan's friends and neighbours marked the second anniversary of her killing by holding a candlelit prayer vigil outside her home.
Joan Lyons, who lives next to the late Ms Hanrahan's bungalow, fought back tears, and said: "I loved Rose, she was the kindest neighbour you could meet."
The last two years, since Rose's murder, have been "torture" for the local community, she said.
"You open the door and look over at her house and she's not there. It's terrible, I miss her."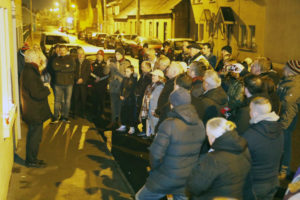 Local Sinn Fein Councillor John Costelloe, who also knew Ms Hanrahan, said: "The news of the arrest has given a sense of relief to the community two years on from Rose's death, but they are still a little nervous.
"We need to leave it up to the Gardaí and let the matter take its course," he added.
Speaking following her sister's murder, Helen Carmody recalled how they always spent Christmas together and they were due to have dinner on Christmas Day at Rose's house.
Rose's body was discovered by her other sister Evelyn and her husband Jimmy. They had called to the house to return her handbag which she had left at their house.
"I'm in a daze. It's like it has not really happened. (Rosie) was very careful going to bed. She'd lock all the doors."
Ms Carmody said Rose felt secure in her own home and, she did not have an alarm installed.
"She was very independent. She wasn't a nervous person, as long as everything was locked up and she went to bed, then she was grand."
"She's going to be a big loss to all of us. I will miss her dreadfully. I can't make sense of it really."
"She never did anything to anybody. She was very good to everybody and then this. Everybody liked her. Rosie was very good-living. She loved the gardening and she went to bingo."