"Times were tough from a security point of view, but, to give credit to the people I worked with, we all tried to keep our lives pretty normal, in so far as we could manage it. There weren't any big secrets. The only big secret I encountered is long since forgotten."
Kevin Sheahan, the politician, is no stranger to publicity…like the time he called for a Polish rock group, whose lead singer had ripped up a bible on stage, to be banned from performing at King John's Castle…and the day he was forced to apologise after a wheelchair-user snapped his car parked in a disabled space and sent it to the media…and when he said he preferred Presidential candidate Peter Casey to some of the "rats and snakes" within his own party.
Sign up for the weekly Limerick Post newsletter
However, Kevin Sheahan, "the cop", a casual self-reference, has been a largely unknown character, until now.
On a frosty March night in 1974 in Dublin, the Askeaton native found himself caught up in the middle of "a secret" which generated further mistrust between the British and Irish authorities while the Troubles in the North raged on.
"It's a chapter in Irish history that's forgotten about and shelved. Nobody wants to talk about it – but it happened.
"There were two English brothers in jail in Mountjoy and there was a lot of allegations about them. They were supposed to be English spies planted in the IRA."
Brothers, Kenneth and Keith Littlejohn were jailed in August 1973, for 20 and 15 years respectively, for the armed robbery of £67,000 from a Dublin bank – then the largest bank heist in the history of the state.
They claimed they were British intelligence officers whose mission was to carry out crimes in the name of Republicans to generate pressure for the introduction of internment of suspected IRA figures.
The British Government dismissed the brothers claims, but a former Taoiseach later admitted he was aware of an intelligence report backing up the claims.
Sheahan, then attached to the Garda Special Branch at Dublin Castle, happened to be near Mountjoy jail when the Littlejohns scaled its 25-foot high outer perimeter wall.
While Kenneth, 32, vanished into the night, and was not apprehended until over a year later, his 29-year-old brother Keith, having injured his ankle, was captured and found himself handcuffed to Sheahan.
"Somebody said to me, 'have you a gun', and I said, 'no, I've no gun on me'. I was told 'you're the man so, we'll cuff you to him'. I repeated I had no gun and I was told, 'you're better off without a gun, in case there's an arrangement to spring him, and, if you can't pull a gun, you're not going to get shot.
"I said 'where are we going with him' and I was told we had to go across the road to the Mater Hospital."
"Ironically the hospital that saved my son's life afterwards" – more of that later.
"We were going in to the grounds of the Mater, it was about 8pm and there were visitors coming out and going in. All of a sudden there was a good number of Gardaí in the shrubbery, armed to the teeth, in case there was a second phase that we would have to be ready for."
"I went in with 'my pal' handcuffed to me and was shown into a room where he was gong to be examined."
"The part that I remember best, was when the doctor asked me to take off the cuffs so he could examine Littlejohn. I said, 'I ain't taking cuffs off him, if you can't examine him the way he is, he won't be examined tonight'. He examined him but he wasn't very civil towards me. That was hilarious, actually."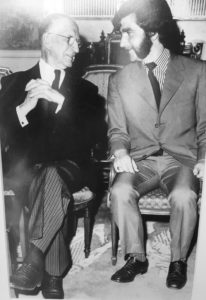 Sheahan returned Keith Littlejohn to Mountjoy jail, but what transpired afterwards about who knew what and when, has fueled his suspicions about the entire episode.
According to an Irish Times report in 2000, the Irish Embassy in London was informed by British authorities in January 1973, that Kenneth Littlejohn had connections with intelligence services.
The then-Taoiseach Jack Lynch was briefed about Littlejohn's intelligence links, but having initially denied this knowledge, he later admitted he had forgotten about it.
In 1980, Keith Littlejohn wrote a letter from his cell to Taoiseach Charles Haughey, seeking to be released, having been informed that this would be a "political decision".
Haughey replied he had referred the matter to the then Minister for Justice Gerard Collins, but Collins had already written to the Taoiseach about the Littlejohns possible release "on humanitarian grounds".
The brothers were eventually released that September.
Sheahan's recollection of the aftermath was that it was shrouded in secrecy: "It was never talked about, but the consensus – whether accurate or not – was it was a planned escape, and let them off to hell, back to England, and, that they were costing the State money."
"Who they really worked for, I don't think anybody will ever know. I don't believe that they were here and nobody knew."
"They claimed they were working with the Provos, and then they claimed they were working with British intelligence, and then they claimed they were working with Irish intelligence. It's quite possible they did a bit with everybody."
The BBC reported it as "another embarrassment for the authorities at Mountjoy Prison in Dublin, coming just five months after a helicopter picked up three leading IRA members from Mountjoy's exercise yard".
"THE COPS"
Sheahan's father died in 1948, when he was just two years old, and his mother "became our mother and our father".
The family struggled financially, which may have prompted Sheahan's enterprising streak. Besides politics and joining the Gardaí, he was a publican and a landlord.
He joined the force in 1966 aged 20 years. By then he had already purchased a pub, and later sold it "in the boom" for a profit.
He enjoyed pulling pints, but crime was more exciting to the son of a butcher.
After an initial stint in Thurles Garda Station he was nominated by his superiors for a detective role in Dublin, and he joined the ranks of the Special Branch.
"As a young Garda, I had a great interest in crime, I had no great interest in anything else. I loved a bit of crime and it was easy to be successful in Thurles because it had a very low crime rate. It wasn't that I was a whizz kid. I was fortunate."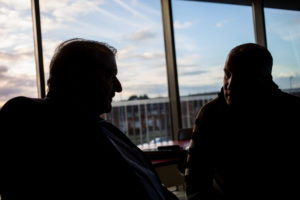 The first time he persuaded a criminal to "sing like a thrush", he was hooked.
"It was wonderful".
The detective unit "was a totally different type of life".
He was soon "in the thick of it".
"I got to know guys. One of those people was the guy who actually arrested the future Taoiseach Charlie Haughey for the Arms Trial. I was talking to these people, who when I was in Limerick, I was reading about these guys and suddenly they were real people."
Haughey, Captain James Kelly, IRA man John Kelly, and Belgian businessman Albert Luykx, were subsequently acquitted of importing arms and ammunition for the armed struggle in the North in 1970.
"BODYGUARD" Sheahan was assigned as a personal bodyguard to a number of high profile politicians and socialised with some, which led to some close relationships.
Others he admired for their complete dedication, such as fellow Limerick man Des O'Malley.
Sheahan protected O'Malley when the then Minister for Justice slept with a gun under his pillow, while he and his family were under a credible and prolonged threat from the IRA.
O'Malley, who had also been embroiled in the so-called "Arms Crisis", never slept in the same Dublin address for more than a week when the threat level was at its highest.
Sheahan recalls: "He was a 'hot potato' at the time. We never allowed him go anyplace without at least two of us with him, as well as his driver. You'd go to Limerick with him for the weekend. He was an easy man to work with."
"I saw him doing things that made me have great admiration for him. He had liathróidí."
Mountjoy provided the scene for another made memorable night.
"I remember one night we had dropped O'Malley back at a hotel in Dublin and an alert came over the radio that there were people out on the roof at Mountjoy. We felt we had to tell the minister or he wouldn't know about it until the morning paper."
Appearing at a late hour at O'Malley's hotel, the Askeaton detective "had a job convincing the porter who I was and who I wanted".
O'Malley eventually "came down in his bedroom slippers and dressing gown and says 'what's wrong".
After hearing Sheahan's information O'Malley got dressed again and the two Limerick men headed for the Joy.
"He could have said he'd had a hard day. You have to remember things were very lopsided after the Arms Trial. He came out and got into the car and I drove up into the back of Mountjoy Garda Station right beside the jail. We went in. It was explained that they were peeling slates off the roof and throwing them down."
According to Sheahan, O'Malley decided to address the men on the roof, despite being warned the situation might have placed him in immediate danger.
"He said we'll go up there. I heard a senior officer saying, they'd rather he didn't because they couldn't guarantee his safety, and I'll never forget what O'Malley did; he hadn't to think twice."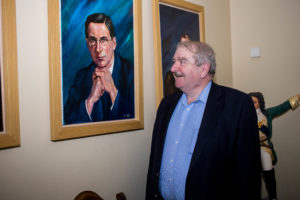 "We went up and he got a megaphone. It was a cold frosty night, and he gave them ten minutes to get off the roof. He just spoke to the prisoners and told them he wasn't going to spend all night on the roof with them. They put two-and-two-together and probably realised they'd be faced with frostbite, and they went back in."
"He said to me to take him back to the hotel. Job done."
Sheahan also forged close bonds with Jack Lynch, Liam Cosgrave, along with their wives while protecting the two former statesmen.
It wasn't always exciting, and certain mundane tasks had to be completed. Sheahan laughs recalling obliging the then-Minister for External Affairs, Paddy Hillary who, under pressure to catch a flight to the US, asked Sheahan to organise emergency dry-cleaning for a "bag of dirty shirts" before take-off.
The common bond shared with the dignitaries he protected was their ordinary "humanity".
Former British soldier and diplomat Sir Arthur Galsworthy was another favourite. They would often share a few pints to wind down after work in the snug of Galsworthy's local pub on Dublin's south side.
"He was only in Dublin a few weeks when his wife died and he was kind of at a loose end. We went to a pub out in the suburbs near where he was living and there was a big snug in it and that's where we would go. He was one of the boys when he was out."
He was a regular bodyguard for President Eamon De Valera at the Áras and later when he took up residence in Talbot Lodge at the Linden Convalescent Home in Blackrock.
He recalls them sharing an intimate chat on the steps of Talbot Lodge where "Dev" relayed to him his regret of never having made it into the priesthood after Mungret College and St Munchins turned him down, despite being accepted at Rockwell College.
Sheahan left the force in 1974 having accepted a bodyguard role with the United Nations. However, he never made it to his post in Jerusalem, after he discovered his mother was dying from cancer.
"It broke my heart not to do it. I had my car sold and everything done. In the end, I didn't go, I couldn't imagine myself out there waiting."
At home he concentrated on the pub and politics.
His greatest personal achievements were spearheading a plan to introduce Askeaton's first credit union, as well as securing a swimming pool and leisure centre for the parish.
He prefers not to dwell on his son Robert's 29- year uphill battle with cystic fibrosis, but rather embrace his recent 'miracle' recovery, after he underwent their first-ever double lung and liver transplant in Ireland last June.
The sight of his son waking up from the mammoth ten-hour operation earlier this year in the Mater – where he had escorted Keith Littlejohn in handcuffs 45 years earlier – was "overwhelming".
"It has made the family bond stronger than it ever was."
The sprightly 74-year-old was elected the first Mayor of the merged City and County Council, and has made it past the post in the Fianna Fáil silks in every local election since his first race for a Council seat in 1985.
He says he hopes there's a few more rounds to go in "the politics game".