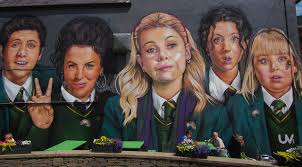 Derry Girls, which shows the lives of a group of teenagers growing up in the Maiden City in the 1990s amid the Troubles, have teased about the possibility of a movie being made.
The popular show, which follows Erin, James, Clare, Orla, and Michelle has season three on the way but it could hit the big screen as creator Lisa McGee revealed that the idea of a movie has been discussed.
BoyleSports make it a 1/2 chance from Even money for this to happen.
Sarah Kinsella, spokesperson for BoyleSports said: "Derry Girls has become a household favourite for many fans and not only are they being treated to a third season, but they could also be looking forward to a movie too. It's a 1/2 chance to happen and it if does, it's sure to be a sell-out premiere."