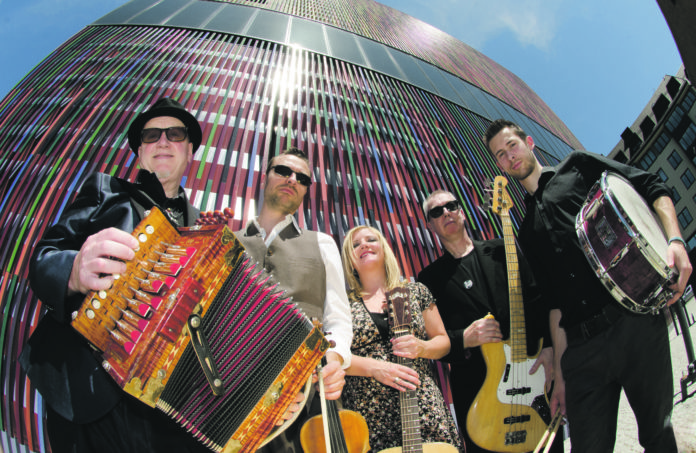 THE Shannonside Winter Music Festival wakes us all out of our new year slumber every year.
From its small beginnings, the weekend long event now boasts a hectic schedule  of over 80 events across 17 locations featuring a broad eclectic music programme in Sixmilebridge and Bunratty.
The festival is organised by Sixmilebridge Folk Club and many of the events are free admission with Irish and international acts playing shows from early in the day.
The festival is a merry-go-round of cajun, blues, folk, bluegrass, trad, vocal groups playing intimate sessions in the restaurants, pubs and concert spaces – many performing multiple shows – the acts are chosen not just for their musical prowess but for their ability to entertain and have the craic. At this festival you will hear music you love and music you never knew you loved.
This year features Cherish the Ladies, Midnight Run (US), Le Llamas (Switzerland) and  The Cajun Roosters among many more.
Limerick Post chatted with festival founder Brendan Walsh.
Through his innovation, forward thinking and appreciation of musical diversity, Brendan has created a unique and much loved event.
The event began as a millennium celebration weekend and has grown from there. Its timing in the month of January is something of a happy accident and one of the secrets of its success, says the full-time building contractor.
"That business would be dead in the water in January, so it suited me to run something at that time of the year."
The festival gets plenty of press attention. There is very little else on out there and the music acts are queueing up to be a part of the show. The background work is usually done in the previous March and April.
"We found it was a great time for getting editorial coverage. Once the new year celebrations were over, everything was quiet and everyone was knocking on the door for stories."
The festival is run by volunteers from the Sixmilebridge Folk Club which has had a strong presence in the village for many years.
"Visitors love the village. The shows happen in the village from early afternoon. You could be talking from someone from Portlaoise or Donegal and a local fella in the middle of it all.
"All talking about music and in 20 years we have not had a bit o' bother. Everything goes off without a hitch."
Including the Bunratty Folk Park in the festival is a more recent innovation. Dozens of acts play multiple sessions in the park. It is an ideal location for a family day out enjoying the diversity of music.
"In the folk park you'll recognise four of five genres. If you want to get a glimpse of the whole festival and not be down in the pub, that is a great place to get it."
When it comes to finding acts for the Winter Music Weekend, the organisers look for entertainment value rather than appeal to a narrow audience. Brendan, who stepped back from organising the event this year, has many happy memories.
"It was all about a bit of fun and enjoyment. My happiest memories and best memories are the people that attended it. Its easy to get the acts, they are all queueing up for a job.
"Getting the audience out, that's a hard job. That takes work. You welcome them and make sure they feel part of it. If you do that they will come back."
Getting There
From Limerick, you can get to Winter Music Festival by car, bus and train (the InterCity to Ennis stops at Sixmilebridge nine times daily). There is a festival bus travelling between Sixmilebridge and Bunratty villages every 20 minutes during the weekend.
Shannonside Winter Music Festival happens from this Thursday January 16 to Monday January 20. www.wmw.ie, for full lineup information.
Playing there…
Kimber's Men from England are a sea shanty group performing incredible four-part a capella vocals. The Fiddle Case – the four-piece trad/ folk group from Doolin are making their festival debut in Bunratty Castle and Folk Park.
The Cajun Roosters are five musicians from five countries who have dedicated themselves to bringing Cajun and Zydeco to as many people as possible.
The Kirbys are sisters, Kara harp and fiddle and Caoilinn fiddle and piano, playing a lovely blend of traditional music.
Lovers of rocking blues will be keen to hear DD and the Delta Boys. From Donegal they play classic high-energy rhythm and blues by legends such as Muddy Waters, Eric Clapton and the Fabulous Thunderbirds