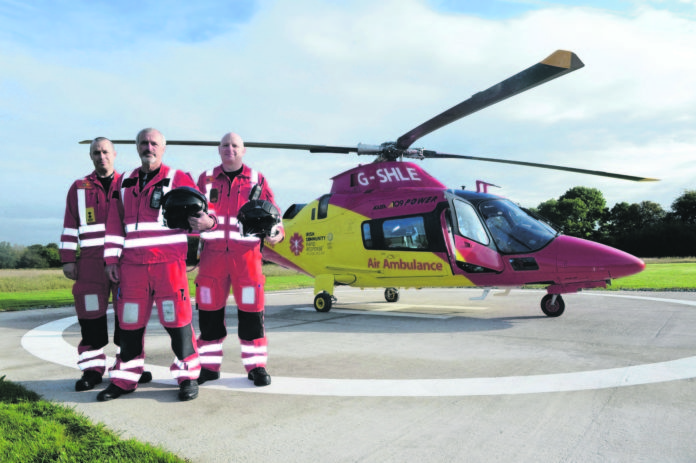 A RESCUE service that has flown numerous missions in Limerick and has proved to be the difference between life and death for critically ill people will be grounded in 24 hours unless it can secure €400,000 in funding.
The fate of the Irish Community Rapid Response (ICRR) service is in jeopardy, having raised just €30,000 of the money needed to keep flying missions across Ireland and bringing seriously ill patients and accident victims to hospital in a time-critical fashion.
In just five months since its launch, the ambulance has flown more than 270 missions, many of them saving the lives of people in crisis in Limerick or bringing patients to University Hospital Limerick (UHL).
The charity has raised almost €700,000 to date for its Helicopter Emergency Medical Service (HEMS).
These funds, alongside website donations at www.icrr.ie and recent fundraising events, have raised just over €30,000 since news broke last week about the impending grounding of the vital Air Ambulance.
A similar service, the Aer Corps EAS service operating from Athlone receives State funding of approximately €2.6 million a year while the ICRR service is totally dependent on donations.
In fact, tis year the ICRR will have to pay the VAT to the tune of hundreds of thousands of euro.
ICRR Operations Manager Ruth Bruton said: "We planned for 350 missions in our first 12 months based on mission figure from the EAS which carried out 310 missions in 2018.
"In a little over five months, we have flown over 270 missions which raises our estimates to 600 possible lifesaving missions per year. With our increased demand, we need support now more than ever."
The charity has written to Health Minister Simon Harris, alerting him to the plight of the service but has as yet received no response.
Ms. Bruton adds: "The ICRR Air Ambulance has had phenomenal support from the public to date, which we are very grateful for, but we need even more support from the public to keep this service live.
We need funding from anywhere we can get it to keep this vital service in the air. "
Anyone who would like to donate can do so at www.icrr.ieor through the special Go Fund Me page, 'Keep the ICRR Air Ambulance Flying'.