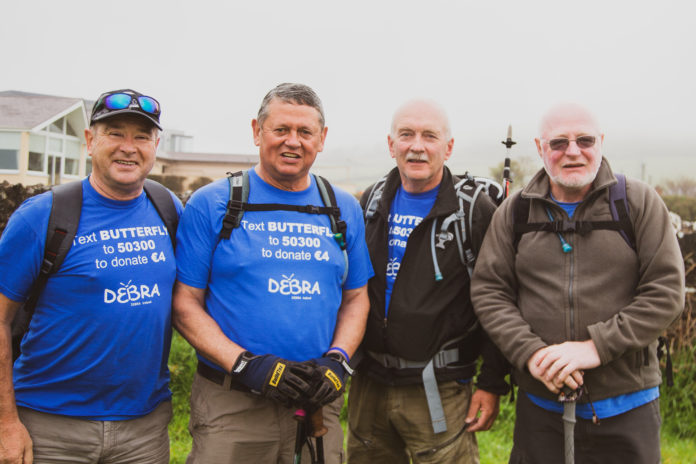 A West Limerick charity walking team who raised €25,000 for people living with a rare and incredibly painful skin condition.
Debra Ireland, the national organisation which supports people living with EB (epidermolysis bullosa) is the organisation the money was raised for.
Sign up for the weekly Limerick Post newsletter
The Limerick team have raised over €150,000 for the charity in the past 14 years by taking on Debra's Kerry Mountain Challenge.
Shanagolden based Eamon O'Kane and his three friends, take part in a 75km charity walking challenge every year.
"Last year was our best yet, we set a target of €25,000 which I didn't think we'd reach, but incredibly, we managed to surpass it," Eamon said.
Debra Ireland was established in 1988 to provide patient support services and drive research into treatments and cures for those living with the genetic skin condition EB (epidermolysis bullosa).
EB is a very distressing and painful condition which causes the skin layers and internal body linings to blister and wound at the slightest touch.
Due to the presence of constant wounds, patients with a severe form of EB are susceptible to a very aggressive form of skin cancer, from as early as their teenage years.
Debra Ireland is striving to end this heartache and pain by funding early stage research programmes to find treatments and cures for EB and skin cancer.
Text BUTTERFLY to 50300 to donate €4 to Debra Ireland.