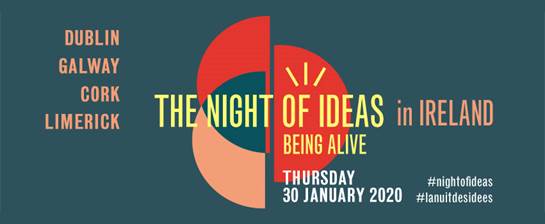 THE very first European Expo 2020 event has been announced.
The Night of Ideas, a world-wide event managed by Institut français, will take place in Limerick.
Night of Ideas (Nuit des Idées) is to organise an evening of cultural events and debates around a particular theme chosen every year by Institut français. This year's theme is 'Being alive'.
The 2020 Night of Ideas will take place across all five continents on Thursday 30 January, from Dakar to Los Angeles, not to mention Brussels, Buenos Aires, Kathmandu, Paris, Dublin, Galway and Limerick.
In our city, the event will be organised by Alliance française Limerick with the support of the French embassy and will take place from 6pm in the magnificent drawing room of One Pery.
It will consist of the following Musical readings on the theme 'Make our planet great again!', a screening of Cyril Dion's and Mélanie Laurent's 2015 uplifting documentary Demain (Tomorrow), which is a fantastic film about innovative solutions found by various communities around the world to change the way they live for the sake of our planet.
There will be short presentations by Ms Roisin Buckley (Limerick Cycling Bus), Ms Madeleine Lyes (Irish Pedestrian Network) and Dr. John Morrissey (Geography Department, MIC), and Dr Loïc Guyon, Honorary Consul of France in Limerick, will animate a discussion with the audience on what can be done by our governments and by ourselves in order to improve our living conditions while, at the same time, protecting our environment.
More information can be found on: www.europeanexpo.eu