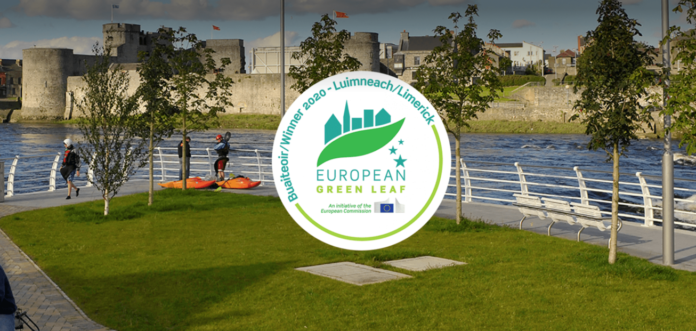 Limerick to be national exemplar in fight against climate change this year as it launches its programme for European Green Leaf Year 2020.
Limerick's green credentials deepened as it launched its European Green Leaf Year with the announcement of a programme of events to mark the European Commission designation.
Some 26 events and initiatives are so far scheduled for a packed programme in Limerick, which was awarded the designation along with Belgian city Mechelen in recognition of its commitment to better environmental outcomes.
Among the events set to be held across the year in Limerick will be the first-time hosting in Ireland of Ireland's Buzzing: An international conference on pollinator conservation.
Being held in May at the Limerick Strand Hotel, Ennis Road, the conference will provide an opportunity to learn from international experts about successful pollinator initiatives around the world and hear about key successes from the first phase of the All-Ireland Pollinator Plan.
The full events programme, including an events guide, can be viewed at www.limerick.ie/European-Green-Leaf-City
A total of 12 cities from across Europe entered the competition, with Limerick one of three cities shortlisted, winning the award with Mechelen in Belgium.  The award, which goes to towns and cities with between 20,000 and 100,000 inhabitants, was given as much for Limerick's vision and commitment to a more sustainable future as it was for anything already achieved, along with the city's ability to act as a green ambassador.
Limerick turned the heads of judges because of its ongoing commitment to monitor air quality and improve noise levels in the city and transform itself into Ireland's first digital city by integrating several public services, creating smart neighbourhoods and energy districts.
It follows hot on Limerick becoming Ireland's first 'Lighthouse City' in 2018, Limerick City became Ireland's first Lighthouse City under a Horizon 2020 – the biggest EU Research and Innovation programme ever – funded project called Positive City Exchange. Limerick will invest over €6.5m to establish Ireland's first energy block in the heart of the city.
Launching European Green Leaf Year, Mayor of the City and County of Limerick Cllr Michael Sheahan said that Limerick ticked all the boxes for the judges.  "We made a very strong case for the European Green Leaf Year.
We had a fantastic story to tell about a range of areas like our Climate Change and Energy Performance; sustainable urban mobility; nature, biodiversity and sustainable land use programmes; noise/air improvement initiatives; what we have done on waste and the circular economy and on water.
"Limerick is synonymous with green in terms of our county colours but now we want to be synonymous with green in terms of what we are doing to tackle climate change.
"This is a priority for me as Mayor and for the city.  We are national leaders this year and we want to continue to be."
The European Green Leaf award is a competition aimed at cities and towns across Europe with populations between 20,000 and 100,000. Each entrant in the competition was judged under 6 themes:
1.      Climate Change and Energy Performance
2.      Sustainable Urban Mobility
3.      Nature, biodiversity and sustainable land use
4.      Air Quality and Noise
5.      Waste and the circular economy
6.