Limerick Post journalist, Alan Jacques, joined General Election 2020 candidate Jan O'Sullivan TD, Labour, on the campaign trail while she canvassed in Limerick City.
"IT would be a terrible indictment of Limerick if people didn't return a woman of Jan O'Sullivan's calibre back into the Dáil."
That was the view of former Labour Party county councillor Tomás Hannon when we joined Deputy O'Sullivan and her team on the canvass trail in the city on a Friday morning.
Sign up for the weekly Limerick Post newsletter
And, according to Mr Hannon, who served as a member of Limerick County Council from 2009 to 2014, people are now "coming back" to the Labour Party.
Cllr Conor Sheehan is equally upbeat when we join Labour's election campaign in the Athlunkard Street and Lee Estate area of the city.
"The last election in 2016 was very tough, but people are being far more circumspect. People realise that when we went into government we didn't have the bobs, it was a very economically challenging time.
"Jan still managed to get social houses built in Edward Street and Southill. She has a proven track record of delivering for Limerick. In the last few years no houses have been built," the City North representative points out.
"All the senior Ministers are in Dublin. We need someone of Jan's calibre at the heart of government," he adds.
However, Cllr Sheehan, like all canvassers I've spoken to during the election campaign, is taking nothing for granted. There is a sense from the Labour Party faithful that the election could go either way with no guarantees of Deputy O'Sullivan retaining her seat in the 33rd Dáil.
"It will be hard fought," Cllr Sheehan believes.
Deputy O'Sullivan herself, like all other election hopefuls, has the bit between her teeth. She gives her team of ten canvassers some direction before they break up into teams and go door-to-door.
A former Education and Housing Minister, she is eager to press on and put her case across on the doorsteps of Limerick City. She is also quick to remind me that as a minister she delivered new schools and extra classrooms for Limerick children.
Still, you only have to take a quick glance at social media any day to see the vitriol that is continuously aimed at the Labour Party when the issue of housing is raised. I am half expecting to witness some of this frustration and anger firsthand on the election trail.
But Deputy O'Sullivan takes the view that Fine Gael could have solved the housing crisis by building housing on public land, "but chose not to".
The seasoned politician points out that as Housing Minister she delivered much-needed social housing in Limerick during an economic emergency.
She says that the Labour Party in government would build 80,000 affordable and social homes on public lands, freeze rents and introduce a nationwide rent cap.
There would also be more investment in hospital beds, end the recruitment embargo and the reliance on agency staff. Funding for mental health services would also be high on the agenda.
But I'm not here for the party political broadcast.
I am more interested in the reaction on the doorsteps and to see how Labour are received by the electorate as we head into General Election 2020.
In fairness to the Corbally-based TD, she is well able to hold her own and fight her corner.
She gave an impressive account of herself on the RTE Six One News recently amid plenty of bluster coming from the roof of The Strand Hotel. And no, it wasn't down to a westerly breeze! The hot air was plentiful as a number of General Election candidates clamoured to turn the trolley crisis into a political sideshow on the teatime news. It made for pure car crash TV.
Deputy O'Sullivan, the only port of calm in this embarrassing brouhaha, came across like mammy scolding her children, busy fighting over the last custard cream.
"I was the only adult in the room," she suggests when I remind her of it.
But how would she fare on the doorsteps? Has the tide really turned back in Labour's favour?
She was certainly enjoying the cut and thrust of the campaign and well able to work the crowd.
"I love the canvass and the chance to get out and meet people. I am a people's person," she tells me.
Next moment, whizz, she is taking off across two lanes of traffic on Athlunkard Street to greet one lady on the other side of the road.
"I just missed you Anne. I left a leaflet in your door," she says by way of greeting.
One woman in Lee Estate says she is still undecided what way she is going to vote.
Deputy O'Sullivan sees an opportunity.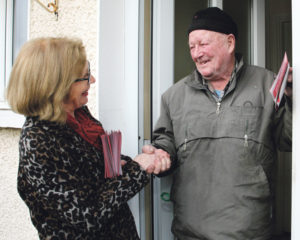 "Well we need more women in the Dáil. There is very few of us," Jan tells her in hope of sealing the deal.
It seems to have done the trick.
"Did you hear what I said there?" she asks playfully as she skips out the gate.
"Limerick is really weird. There are only five women running in the city."
Deputy O'Sullivan takes the view that Limerick needs a strong female voice in Dáil Éireann now more than ever.
"We are in danger of being left behind if we do not get back to the level of priority we had with two senior Ministers at the cabinet table.
"The reality is that Dublin, Cork and Galway have more clout and there is a sense of stagnation in Limerick that has to be reversed. It is only a few years since we had regular job announcements, new schools coming on stream and a sense of optimism and positivity.
"We need to get that back!"
The fact she is the only Limerick woman elected to the Dáil in 90 years appears to go down well with potential voters. She is well received and clearly well liked in this part of the city.
A strong woman, they say, knows that not everyone is going to like her, and is okay with that.
If that's the case, then Jan O'Sullivan is one hell of a tough cookie.