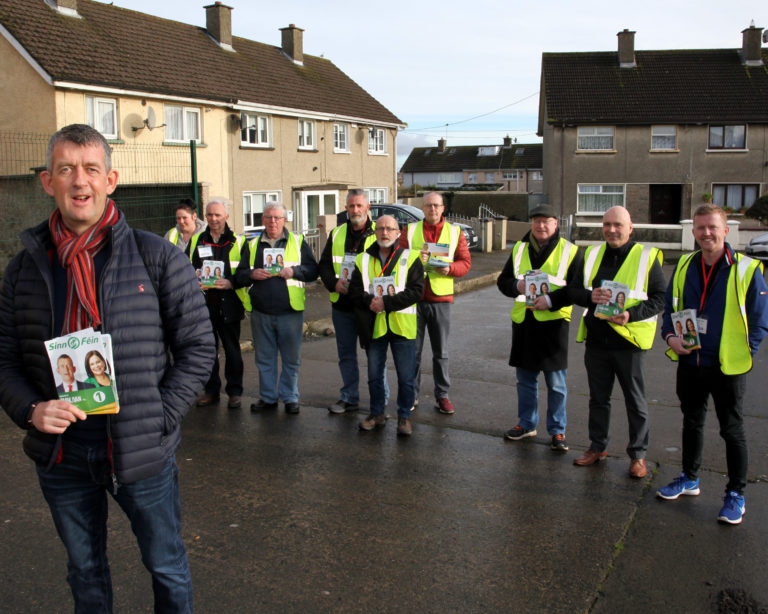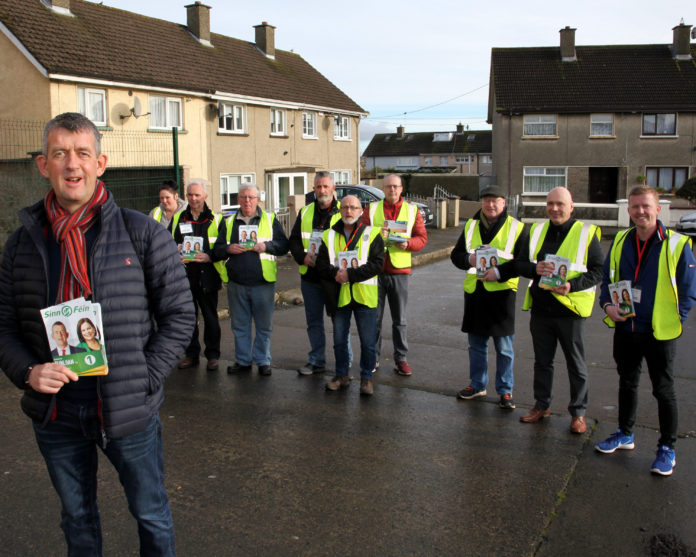 "THEY are like two cheeks of the same arse arguing over who farted".
I've heard this same phrase uttered numerous times on doorsteps over the course of the election campaign. I've heard it from disillusioned voters, complaining about the failed policies of Fianna Fáil and Fine Gael in government, and talking about the need for real change.
Of course, we hear about the need for change during every general election and nothing changes.
But this time round the air seems more charged by this very prospect.
I joined Limerick City Sinn Féin TD  Maurice Quinlivan on the campaign trail in Garryowen last Friday morning where change was very much top of the agenda.
He insists that Sinn Féin's manifesto is a manifesto for change.
"It is a manifesto to give workers and families a break, to put money back in people's pockets and to fix the housing crisis.
"What I am hearing loud and clear from voters throughout this campaign is that ordinary people need a break. They are working hard, working long hours, many of them are commuting and yet, despite this, they are left with little disposable income at the end of each week.
"They feel like they are running to stand still. They know that someone else is reaping the benefits of the economic recovery. So it's time to give them a break," Deputy Quinlivan tells me as we go door-to-door in St Lawrence Park.
He went on to promise that Sinn Féin, if they get into government, will ensure that affordable housing is available and really affordable to people, and will end the scandal of homelessness.
"We will introduce legislation to reduce rents by up to €1,500 a year, through a refundable tax credit and freeze them for three years. We will build 100,000 homes over five years. This will include Council housing and affordable homes for renters and first-time buyers.
"Sinn Féin will give all workers a tax cut by exempting the first €30,000 you earn from USC; benefiting all workers. This will put up to €700 back in your pocket per annum and take one million workers out of the USC.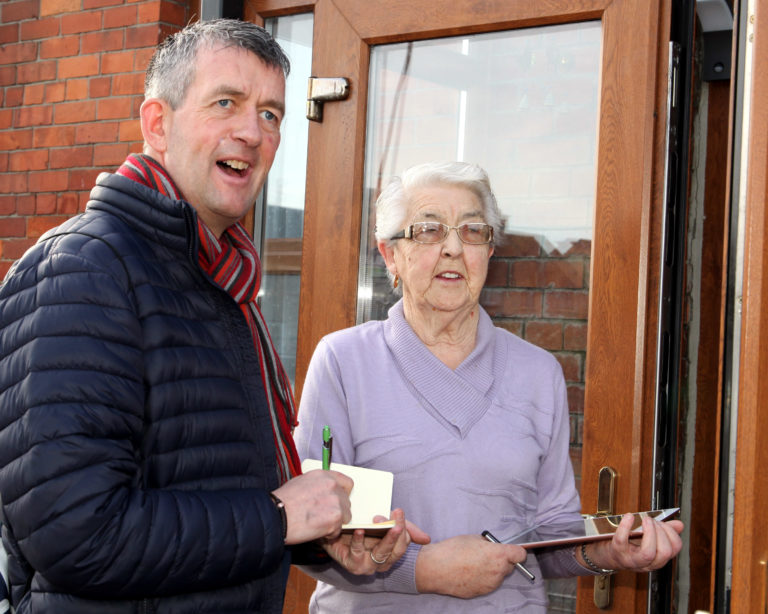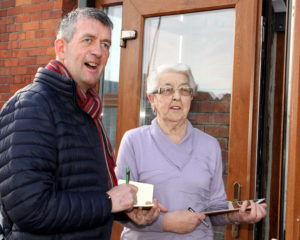 "We will stop the pension age increase to 67 and will return it to 65.
"In this election voters have to ask themselves do they want more of the same or do they want change. Sinn Féin will deliver change that will put ordinary people first and give workers and families a break," he declares.
Well, whether Sinn Féin really does have a magic wand to make all Ireland's woes disappear remains to be seen, but these promises go down very well on the doorsteps.
Quinlivan is clearly very popular in the Garryowen area. His poster adorns windows and doors throughout the estate and people greet him with great enthusiasm.
"We got 600 posters printed up and they are all gone. People are still looking for them. We find we are getting support in estates where people in the past would normally have either voted for Fianna Fáil or Fine Gael. People who have never voted Sinn Féin before say they will this time," he reveals.
Almost immediately Deputy Quinlivan is ushered over to one house where a man is very keen to meet him.
"You tried to sort a problem for me, it didn't work out, but you gave it your best. That's all I could ask of anyone," he tells the Sinn Féin candidate.
"I always vote for Willie O'Dea but I am giving you my number one this time," he adds.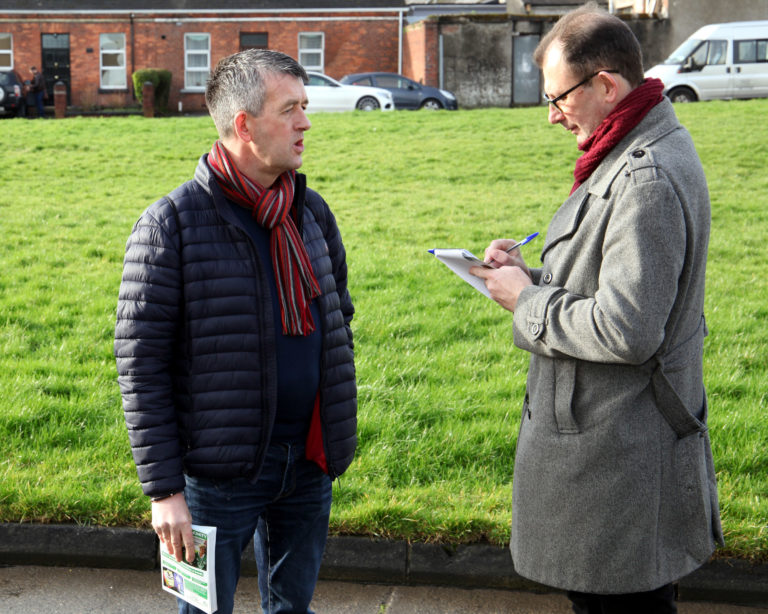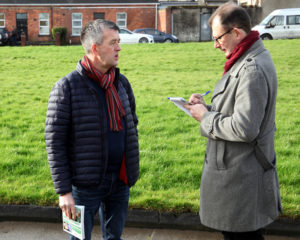 But the candidate is taking nothing for granted, and while Sinn Féin are doing extremely well in the polls, he is still anxious about retaining his own seat in Limerick City.
Still, there is a great sense of optimism on the Sinn Féin campaign trail and people are welcoming them with open arms.
"We'll look after you," one woman assures the Limerick TD.
Senator Paul Gavan, who is out campaigning with Deputy Quinlivan, is very upbeat.
"This is the best campaign I have ever worked on. There's a real shift. Women in particular have really taken to Mary Lou McDonald. They can tell she is a genuine person and that she talks sense," Senator Gavan commented.
After the Limerick Post bids farewell to Deputy Quinlivan and his team, a young woman stops us on the street.
"Do you have any more posters? I need to get some posters. Maurice helped me get a house when no other politician would help me. I was homeless and in a bad place. Myself and my mother will be voting for him," she says.
The times they are a changing for sure.
And who knows, maybe it is a good omen for Sinn Féin that voters will go to the ballot boxes on a Saturday this time round.
The last time this happened was in 1918. It proved to be a historic day for Sinn Féin when they recorded an electoral landslide after winning 73 seats.
As John F. Kennedy once said, "Change is the law of life. And those who look only to the past or present are certain to miss the future."