CHILDREN'S chatter, the Curraghower Falls, a friend's house, holidays. Benign elements to crime writer Siobhán MacDonald's life in Limerick find ways to thread through her novels, securing place and character vividly.
"I guess you pick up things as you are going along. You don't realise that they get lodged in your brain, and they stick," she says simply.
Guaranteed to  have an unsolved mystery/ murder buried in its pages, her psychological thrillers are distinctively Irish, led by street knowledge and not the cops. She's big in the US, with The Chicago Tribune admiring "her masterly control of mood and scene, setting you up for jolts that, even if you somehow see them coming, lose nothing in sinister shock value."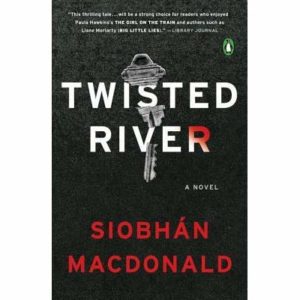 2006's 'Twisted River' (Penguin Books) was set by the Shannon, and 'The Blue Pool'  e-book centres on a young woman's disappearance in The Burren 25 years previously. Her three friends peddle on with their blameless lives, until a stranger breaks silence. 'The Blue Pool' was a big hit on Kindle.
Now Siobhán MacDonald's agent Jo Bell of Bell Lomax Moreton Agency has secured a double-book deal with the high end publisher Constable Crime. 'Guilty', about a heart surgeon with a troubled conscience, goes to press in June, followed by 'The Bride Collector' next year.
Calm and collected to meet, Siobhán has an eye for human messiness. "I think writers are good observers," she suggests. Her latest, reports Constable Crime, "begins with the word 'Guilty' painted on heart surgeon Luke Forde's boathouse, followed by a chilling notice in the local newspaper announcing a death."
With the new book off limits for now, we talk about nailing this genre of murder mystery. "In fiction, you can give it the ending that you want. You are in control of your environment.
"I felt more comfortable writing in a suspense-thriller style. You need to have an arc. You need to have a beginning and you need to know what your end is and you can figure out the bits in between. I do a rough kind of storyboard, do something like a mind map.. I'm quite pictorial and it's an easy way of getting all your ideas down on one page."
Crisp, image-rich sentences "are very much a constraint of the genre. If you are writing suspense thrillers there can't be any slackness, there isn't much forgiveness. Be reasonably spare and get to the point.
"A lot of crime writing, even series on TV, work best when you have light and shade, and quite a bit of comedy. You can explore why people do things and I find that really interesting, why people do what they do."
Writing she is something she is at one with in her study at the family home in the city. There's never a mention of an anxious moment, a plotless character or fear that the well of ideas will dry.
Promise showed early. Her Leaving Certificate English essay at Laurel Hill Coláiste won the Department of Education's medal for being the country's best.
Having graduated from college, there was a decade spent in Scotland as a technical writer of manuals for programs and so on. Siobhán feels that those years of professional efficiency in the metier honed an ability in fluent, clear writing and the ability to connect chapters, hooking the reader. Friends nudged her into creative writing seriously.
Of submitting to publisher and agent, there is the suggestion: "Only send your very best work. It has to be the best that you know you can do. They are sent a lot of stuff and … there isn't the time for less."
With her sophisticated, scenic mysteries peopled by ordinary yet ominous Joes, there's many a psychological sleuthing ahead for this wise and witty blonde. International profile and distribution of works are further clinched with the Constable Crime contract.
Standards are high: this is the publishing house that won 2019's Golden Dagger from The Crime Writers' Association for MW Craven's novel 'The Puppet Show'. It's a highly competitive arena with legends Ruth Rendell, John Connolly,  Lee Child, Gillian  Flynn at large. Daggers at dawn? Definitely, the only way to get knifed in Limerick.