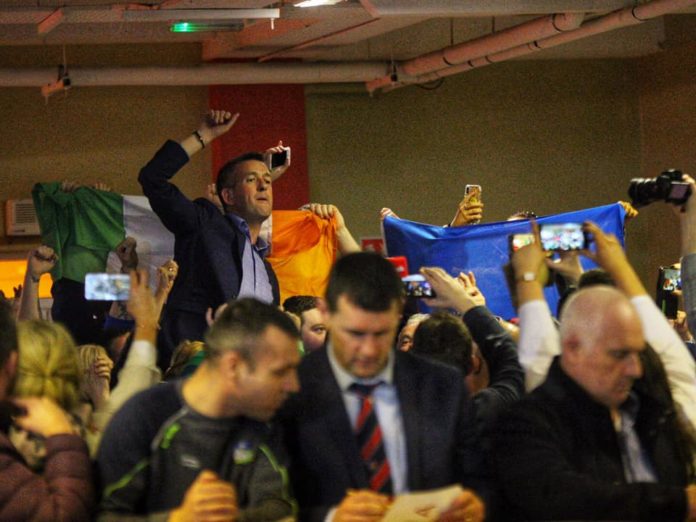 AS Limerick's General Election count enters its second day, Limerick City is the only constituency of the two which remains with vacant seats.
Following the election of Richard O'Donoghue, Independent, late Sunday night, Limerick County had all seats filled, with returning TDs Niall Collins, Fianna Fáil and Patrick O'Donovan (Fine Gael) completing the county constituency.
Richard O'Donoghue makes history as he becomes the first Independent politician elected in the Limerick County constituency in a General Election after winning a seat held by outgoing Fine Gael TD, Tom Neville.
Limerick City:

Seat 1 – Maurice Quinlivan (SF)

Seat 2 – Willie O'Dea (FF)

Seat 3 – vacant

Seat 4 – vacant

Limerick County:

Seat 1 – Niall Collins (FF)

Seat 2 –  Patrick O'Donovan (FG)

Seat 3 – Richard O'Donoghue (IND)
In the city constituency, a fight will be on for the third and fourth seats, with Fine Gael Senator Kieran O'Donnell leading the remaining candidates by just under 2,000 votes for the third seat in the four-seater constituency.
Councillors Frankie Daly, Independent, and Brian Leddin, Green Party are currently sitting in fourth and fifth place respectively with counting to resume this morning and just over 180 votes separating both candidates.
Counting on Sunday saw returning TD Maurice Quinlivan top the poll in the first count in what was a historic day for Sinn Féin across the country. Quinlivan told the Limerick Post party leader Mary Lou McDonald will "speak to all party leaders in the next couple of days".
Fianna Fáil's returning TD Willie O'Dea took the second seat in Limerick City, narrowly missing out on the quota in the first count, O'Dea received 262 of Maurice Quinlivan's surplus, needing just 28 to reach the quota.