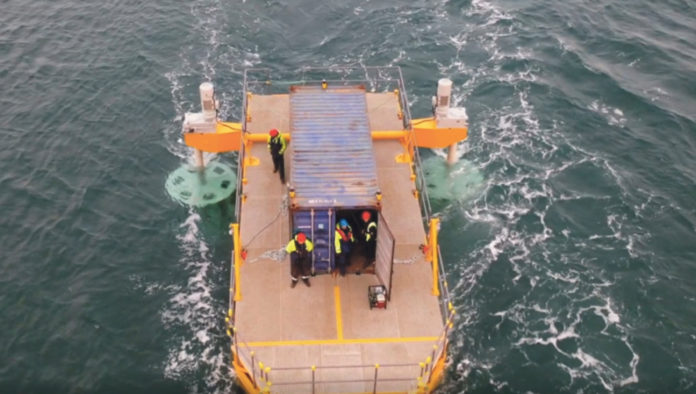 A COUNTY Limerick company has successfully completed the deployment and testing of a turbine that converts kinetic energy in rivers, estuaries and tidal flows into clean, predictable electrical power.
The  60kW (DPR60) turbine and deployment system developed by Rathkeale-based DesignPro Renewables underwent a series of tow tests off the Orkney Islands to assess all operating systems.
A sister company of DesignPro Automation, DesignPro Renewables is developing and demonstrating 25 kW and 60 kW turbines with support from the European Commission Horizon 2020 fund.
The size of the prize for commercialising this type of tidal energy is huge.
In Europe alone, the ocean energy industry plans to deploy 100GW of production capacity by 2050, meeting ten per cent of electricity demand which is enough to meet the daily electricity needs of 76 million households.
These unique turbines act as a clean alternative to 60kW diesel generators in remote and island communities. The system is recognised for the predictability of power, its ability to provide baseload power and to generate more power in lower flows.
Sales and Marketing Manager Roisin Mc Cormack said that the performance data from the 60kW model was now ready for a longer-term, commercial deployment.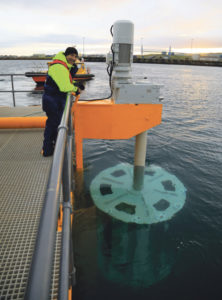 "The primary end users are communities and businesses that are off-grid or grid poor and are forced to use diesel generators as their only viable option. Our 60kW device can provide a clean, independent and predictable supply of electricity to these users, removing the burden and constant drain of funds spent on diesel.
"Its design allows for raising the turbines for mechanical maintenance and cleaning with all parts accessible from the platform itself," she explained.
The device is a floating platform with turbines underwater and is deployed via a mooring system, which can be tailored for either a unidirectional or bidirectional flow and can be easily moved if needed.
Leask Marine Ltd won the tender for the design and build of DesignPro's 60kW unit. Along with the design and fabrication work, they also led the initiative to test the device in Kirkwall on the Orkney Islands.
Vincent Mc Cormack, Innovation Manager at DesignPro Renewables said that the team at Leask had done an exceptional job at managing and delivering what has been a very ambitious project.
"The main achievement of the project was a low-cost platform that has been designed and constructed within the project and this is the latest extension to the Leask portfolio of services and products and builds on their many years' experience of supplying operational marine and diving activities to global renewable marine energy generation providers," he explained.